17 Mar 2023
IMPORTANT MATCHDAY and OTHER KEY INFORMATION AHEAD OF 2023!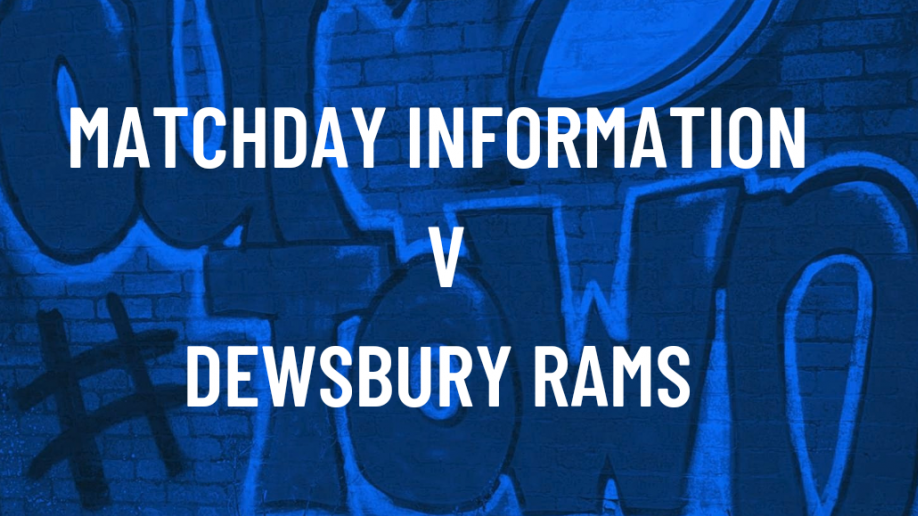 EARLY BIRD OFFERS END SATURDAY 6pm!
NEW SEASON NEW HOPES & DREAMS!
How will this locally based team do? Come and find out!
KICK OFF TIME - 3pm - Please note this is a major amendment from season 2022.
MATCH TICKETS & EARLY BIRD OFFERS! - KIDS GO FREE IN 23!
Secure £5 discount of matchday prices until 6pm Saturday online and until 2pm Saturday at the club shop!
Online - Dewsbury Rams - Early bird tickets! | Town Shop - get those kids of their devices and get them the autographs of the 2023 squad here with these stylish autograph books!
Autograph booklet - 2023 squad! | Town Shop
ADMISSION GATES OPEN.
1230pm - Tom Mitchell Matchday sponsors - your name is on a VIP GUEST list at the main gate our staff will direct you to the VIP reception, up the ramp by gray hospitality buildings where Town super staff will issue you a MATCHDAY VIP lanyard and pass.
The VIP lounge is for matchday sponsors and invited guests only. No pass will mean no entry permitted.
1300pm - MAIN TURNSTILE and ACCESS BOOTHS open and DERWENT STREET BARS, MERCHANDISE & HOT FOOD & DRINKS (Near old speedway pits) -
Check it out - will be cracking close to the pitch viewing when the warmer weather arrives!
STADIUM CAR PARKING
If parking within the stadium gates for the game is your preference we strongly advise purchasing a SEASON PASS for £25.
These can be secured online here STADIUM CAR PARK SEASON PASS! | Town Shop or call 01900 603609 to arrange and collect from the club shop ahead of Sunday.
CLUB SHOP OPENING TIMES
Monday 1030 - 1630 , Tuesday 1030 - 1430, Friday 1030 -1630
*Saturday 10-2pm- *Home matches only
NEXT HOME GAME
FRIDAY 7th APRIL.
Matchday sponsorship packages available for Man of the match and Champagne moment!
Interested in how we can help your business or enjoy a great day out? then call 01900 603609 to discuss or email
Up the Town - See you Sunday!