24 Jun 2020
HALL OF FAME - BILLY IVISON!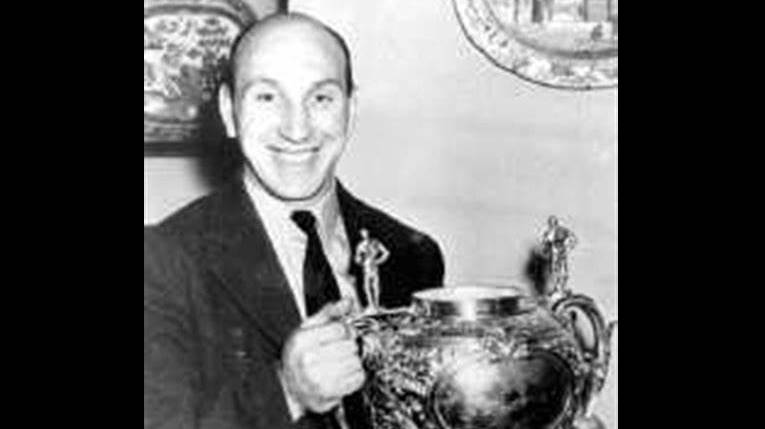 Billy represented Town from 1945-59, playing 385 games, scoring 63 tries, 8 goals, totalling 205 points, 1 Great Britain cap & 4 England caps!
Billy Ivison was one of the most admired Rugby League forwards of the immediate post-war period. Certainly Workington Town followers would not have swapped him for any other loose-forward for he was the heart, soul and brain of the team, which brought so much sporting glory to the Town and to the County, particularly in the early 1950's.
Apart from the genuine genius of his play, Billy was one of the most instantly recognisable figures in the game,
familiar to all through his squat, rather hunched figure and bald pate, which was sometimes obscured by the use of a scrum-cap.
His was a figure which belied his skills. The classic loose-forward was a six-footer and probably a good deal heavier than this 5ft 9" favourite son of Hensingham, where he was born on 5th June 1920.
In the early 1930's Ivison trialled for England Schools at Rugby Union and later played for the Moresby Rugby Union Club before unleashing his talents on Rugby League. His father had played for Hensingham, Seaton and Barrow and it was Seaton where Billy went to play alongside his brother Bob in the junior sides in 1936. During his time at Seaton he acquired almost every honour before he departed for service in the War. He could have been easily lost to Cumberland as he was stationed in Yorkshire and he played a game for Wakefield against York but with York arriving 4 players short Ivison turned out for them instead. Billy played at centre and scored a try in a 28-7 defeat.
Barrow had already given Billy 4 trials but for some reason they didn't feel he met their requirements, a decision they lived to regret. It was therefore, fortuitous for Billy when Workington Town were formed in 1945 as they provided him a chance to make good even though he had by then passed his twenty-fifth birthday.
Neither party ever looked back.
Billy Ivison had all the vital ingredients to play in a Rugby League pack. He had stamina, belligerence and a willingness to work hard. What set him apart, however, was his creativity. One critic in 1952, for example, drooled over 'his judicious kicking, strong down the middle runs, defence-slitting passes and above all his priceless dummy'.

Another described him simply as 'The greatest loose-forward of our time' In short, Billy was a game-breaker, a match -winner.
Billy made his debut for Town on 6 October 1945 as a winger, scoring a try in a 15-8 home win over Liverpool Stanley. It was some time before Town realised that loose-forward was his natural position as they juggled with him as a winger, centre and stand-off. By 1947, however. He had established himself as a key member of Gus Risman's fast-developing trophy-challenging team. That team is now part of Cumbrian sporting folklore. By 1950 it had begun to earn its place in the Rugby League elite.
Ivison was in the company of champion players – his pack-mates roll off the tongue even now – Hayton, McKeating,
Wareing, Mudge, Thurlow and Bevan Wilson – while the backs – Risman, Lawrenson, Paskins, Gibson, George Wilson, Thomas and Pepperell – picked themselves.
In 1951 Town reached their first final when they faced Warrington at Maine Road before a crowd of over 61,000. The Rugby League Championship was the prize for the winners. History shows that Town won a spectacular and thrilling game 26-11, cleverly exploiting a one-man advantage when Warrington lost winger Albert Johnson after only three minutes. What history tends to have forgotten is Billy Ivison's courage in playing the last half hour with a broken jaw.
If Cumbrians were ecstatic over the lifting of the Championship in 1951, their delirium was unbounded the following year when Workington Town took the Challenge Cup at Wembley with an 18-10 victory over Featherstone Rovers. Billy Ivison played the game of his life, becoming the first Cumbrian to be awarded the Lance Todd Trophy. Featherstone captain, Eric Batten, said after the game that 'Ivison did more than any two men to take the cup to Workington,
Two of his breaks were decisive features. He is one of the most dangerous forwards I have ever played against – clever, strong, determined, fast, and a tireless worker'
By 1955 Billy had succeeded the departed Risman as Town captain and he led them out at Wembley against Barrow in 1955. They could not repeat their triumph of 1952, however, and went down 21-12 to their great North-Western rivals. It looked as if that Challenge Cup final was to have been Billy's finale. He was already thirty-five and did not play at all in the 1953/54 season. The retirement was premature, for he reappeared for the 1956/57 season and played on until 1959
when he made his 388th and last appearance for Town at Swinton.
Billy may have played his last game but his connection to Town remained and although the club didn't hit the heights of the 50's his 10 year stint as coach included Ivison masterminding the 1962 Western Division Final triumph over Widnes.
There is no question that Billy Ivison was one of the all-time great loose-forwards. That fact is not reflected, however, in his representative career. Cumberland certainly knew his value, as his fourteen caps in an eleven-year

county career clearly testify. At this level perhaps his most important contribution was his touchdown which beat the 1948 Australians at the Recreation ground,Whitehaven when Cumberland won 5-4. Ivison nullified Australia's Test 13 Les Cowie with a display of unyielding quality with ball in hand and a rock solid defence.
The International selectors were for some reason less enthusiastic and failed to award him any test caps. There was particular dissatisfaction in Cumberland and in the game in general when he was overlooked for the Great Britain Australasian tour of 1950.
The build up had been focussed on a County Championship decider against a Lancashire side containing 11 internationals and it was billed as a trial match for the tour, Cumberland won and Billy was outstanding, reporters praised with headlines like 'Pick Ivison first, and then the other 25 to go with him' but when the squad was announced his name was missing. It was the biggest disappointment of his life and to many within Rugby League one of the biggest injustices in the history of the game.
Of course, it must be remembered that there were some wonderful loose-forwards who were Billy's contemporaries – Ken Traill, Dave Valentine, Ike Owens, Harry Street and Harold Palm, to mention a few – so the competition was intense. As Billy's skill level was not an issue, the accepted reason for his continued omission from the test teams appeared to be his comparative lack of size, although many thought Town's geographical location away from the mainstream may also have contributed.
Even so Billy did play in four internationals for England (1949-52) and represented a British Empire XIII, as well as figuring in a Great Britain side which lost to France in Paris in 1952. That game was his last at the highest
level. Unfortunately Great Britain v France games at that time were not classified as tests.
Test caps aside, Billy Ivison remains one of Cumberland's enduring Rugby League legends – a magician with the ball in his hands, an inspirational figure on the pitch and one of the game's most memorable characters. A extremely pleasant man with a ready smile and a friendly word for all.
In all, Billy made a record 385 appearances for Workington Town, scoring 63 tries and kicking 8 goals in his wonderful 14 years at the club from 1945 to 1959.
The Rugby world was deeply saddened when Billy passed away on Sunday, March 12th 2000 at the age of 79.
Thank you Billy for your contribution to Workington Town and to Rugby League.
Maay thanks as always to Joe Holliday and Tony Boyd for there contributions to this article.