24 Jun 2020
HALL OF FAME - GUS RISMAN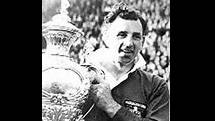 Gus represented Town from 1946 - 1954, totalling 301 games, 33 tries, 719 goals and 1537 points and was driving force on the pitch behind Town's amazing entry into Rugby League.
Augustas 'Gus' Risman.
Here is the story of a truely amazing player and coach whose Rugby League career spanned from 1929 to 1955, 26 years, 868 games, 228 tries, 1676 goals, and an incredible 4036 points!
The son of Augustas George Risman a Latvian born fisherman and a Welsh wrestler, Augustas John Ferdinand Risman or 'Gus' as he was known was born in the Tiger Bay district of Cardiff. The area where Billy Boston and singer Shirley Bassey were from.
He was of 4 siblings and he inherited his Father's excellent physical condition and the Welsh aptitude and passion for sport. He grew up a fine, healthy child and when he moved to the coastal Town of Barry he was soon in the local school football team and selection for the Wales Schoolboy Football team. He also excelled at running and was an excellent swimmer. At the age of 13 he entered Barry County Secondary School where he encountered the Union code and undaunted he handled the game with zest and played alongside future Wales Internationals Ronnie Boon and Danny Evans.
For the next 4 years Gus immersed himself in many sporting activities and played a lot of Union at centre or stand-off. Unknown to Gus he was being scouted by a Welshman called Frank 'Bucket' Young who years earlier had signed for Leeds and had returned to the area and now playing full back he was so impressed he was recommended to Leeds, however they were not interested and that proved to be a massive error of judgement and the ambitious and organised Salford Rugby League Club made Gus an offer of a months trial just before the Christmas of 1929.
Salford made their move in the nick of time as Tottenham Hostspur wanted him to go to White Hart Lane but he chose Rugby League and Salford.
Gus commenced his Rugby League career in 1929 and Gus was equally at home at centre or full back and he developed into a supreme tactician. He stayed at Salford until Workington Town came calling and his time at Salford saw them win all the honours available in the game. 12 major finals in a 10 year period with Risman playing in all of them securing 8 wins and only 4 defeats.
During the war whilst enlisted in the Military Police he guested for Hunslet, Leeds, Bradford Northern and Dewsbury and won the Challenge Cup with Leeds in 1942 with a win over Halifax at Odsal in April. He also appeared in a Championship Final win for Bradford in 1941 over Bramley, he also won the Championship final with Dewsbury.
Out of the military and back in civilian clothing Gus was working as a Cinema manager and returned to Salford for his final season before he accepted the job of Player Manager at Cumberland's newly formed club Workington Town ahead of departing to captain the British Lions on their tour of Australia and New Zealand.
Risman joined Workington for the transfer fee of £750 plus £100 compensation for loss of benefits with Salford. He snapped up a Morris '10' car and rented a house at Fern Bank, Cockermouth. His registration was removed from Salford and he was officially a Workington Town player on 20th September 1946. He made his debut 5th October 1946 at full back against York and knocked on with his first touch in front of a crowd of 12,986. Things got a whole lot better though!
Gus had appeared against Australia at the ripe age of 35 in 1946 and many would have thought that would be the swansong of his career but few could have imagined the energy and drive within Gus to push the fledgling Workington Town club forward, supporters were in for a real treat as he assembled a cosmopolitan squad of players from local teams, Lancashire based players, Scots, Australians and Welshman. By the 1950-51 season Town had forced their way to a 3rd place finish in the league and beat Wigan in the Championship semi-final and then amazingly despatched Warrington 26-11 in front of 61,000+ at Maine Road, home of Manchester City FC. The fans had come to see Brian Bevan the Warrington superstar but Gus and his team upset the odds and were Champions after only 6 seasons in the big time, Gus set a club record with his 108 goals and 237 points.
It got better, in 1952 Workington Town won the Challenge Cup beating Featherstone Rovers 18 -10 at Wembley in front of 72,093 and Risman who had captained Salford to the same honour 14 years previously was held aloft by his players as Town achieved what many thought was impossible. At the age of 41 he was the oldest man to play in a Challenge Cup Final. When the team returned to Workington and paraded the trophy on an open topped bus the bus could not move, there was thousands present so the team had to walk through the streets. Cumberland Rugby League had arrived and that was mainly down to one man - Gus Risman, affectionately known as 'Our Gus' to the fans.
Gus carried on playing until then end of the 1953-54 season leading them to the semi finals of the Championship, incredibly he appeared in all 45 games kicking 138 goals and scoring 294 points and breaking his own records. He appeared to be indestructible however towards the end of the 1954 season Town signed Stan Thompson from Dewsbury and Gus was not happy about the deal and it all ended on a sad note. Gus sold his sports shop, moved out of Cockermouth the place he called home and left the county and headed to Batley, his last game for Town was 1st May 1954 in a 18-7 Championship semi final defeat to Halifax.
He played on match by match basis for Batley and his last game of professional rugby was 12-5 victory over Dewsbury at the age of 43 years and 279 days in late December, it was his 868th and final game, Batley released him for economic reasons and he retired officially as a player, moving into coaching at Salford, Oldham and Bradford and built up a driving instructor business.
Like all Cumbrians or even adopted ones he yearned for the county and moved back to live in Brigham near Cockermouth, where he continued his Driving school business for a number of years.
Representative Rugby League.
His first Wales cap came was against England at Fartown, Huddersfield where Gus scored a try in a 23-18 defeat, he went on to represent Wales 18 times and was captain on numerous occasions.
He was also selected by Great Britain 17 times whilst at Salford making 3 tours to Australasia playing in 12 of the possible 15 tests, of which he was captain 7 times. His debut in 1932 was at the Sydney Cricket Ground and the Lions triumphed 18-13 in front of 50,053 fans.
On the 1946 tour he had the honour of being named tour captain and all his tours saw the Ashes safely return to the UK. He was strongly supported for a record breaking 4th tour in 1950 but missed out on selection despite being recognised as still the soundest and most experienced full back available.
His honours didn't end there, he was named 'Rugby League Sportsmen of the Year' in 1951 and it was thoroughly deserved for a man who brought personality to the sport on and off the field. Risman fully deserved the title as he was a sportsman in all senses of the word, athletic with a strong physique, good temperament with exemplary style and leadership qualities. Off the pitch he would treat everyone with warmth and respect and a friendliness that made him such a favourite throughout the game.
Later that year he even represented Rugby League at the Royal Variety Performance before he Majesty the Queen and Princess Margaret appearing in full Workington Town regalia of Royal Blue and White complete with the Town crest in a cameo finale surprise parade.
Gus Risman was inducted into the Rugby League Hall of Fame in 1988, there is a statue that sits proudly outside Wembley that was unveiled in 2015 at the Challenge Cup Final, in tribute at Workington's regenerated Town Centre a street was named Risman Place as well as the public bar at Derwent Park also being named after the legend that is Gus Risman.
Cumberland's favourite Welshman and a fully adopted Cumbrian Gus died on October 17th 1994, which by then fittingly he would have been enjoying Peter Walsh taking Town back towards the summit of the sport with his stylish side.
Thank you Gus Risman from all in Rugby League.
868 games, 228 tries, 1676 goals, 4036 points! 17 Wales caps, 18 Great Britain caps.