22 Jun 2020
HALL OF FAME - IKE SOUTHWARD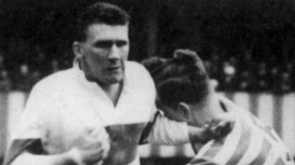 Ike represented Town between 1952-1959, Oldham 1959-60 and Town again between 1960-1969 playing 375 times, 274 tries, 305 goals and 1432 points! He also received 13 Great Britain caps!
Isaac 'Ike' Southward.
Born into a Rugby League loving family Issac 'Ike' Southward was 1 of 4 sons and 2 daughters. His father 'Old Ike' was a talented player himself who turned down trials with Huddersfield and settled at Ellenborough. Old Ike's brother Ferguson also played the game and played at Salford alongside another Town Hall of Famer Gus Risman in the days of the 'Red Devils'.
The next generation of Southwards saw Old Ike father 6 children with 4 brothers all playing locally, William made his way at Brookland Rovers Shield team, then at Maryport before taking up the opportunity of a professional deal at Whitehaven RLFC. Issac proved to be the most talented and harnessed his natural speed when earning a few extra pence as a 'pigeon runner'. The pigeons would arrive at a central loft in the village green at Ellenborough, rings would be taken from the legs and the boy who returned the ring the fastest would be rewarded by the pigeon owner. Ike developed his speed by being one of the runners. He wore clogs and often fell before the owner Jonty Irving purchased a pair of plimsolls for Ike and this increased his speed further.
Schooled at Solway House School in Maryport he played for the Cumberland County teams between 1948-50 and at the tender age of 16 played in the adult Rugby League Cup Final at Maryport and on leaving school he found work as an apprentice fitter at Wharton's Iron foundry in Maryport.
On July 29th 1952 Gus Risman the Workington Coach announced he had signed 18 year old Ike Southward weighing 11st 4lbs who could play full-back, centre or outside half. Ike impressed Gus Risman that much that 'The Master' only watched him once before making his move.
Ike's first team debut on 23rd August 1952 was made at stand off as Town were defeated 26-2 by Warrington and his home debut at Borough Park saw him carried from the field injured and because of his youth it was decided to break him in more gently by playing him on the wing and thereafter it was mainly good news and Ike was such a natural footballer that he would have been successful in any of the backline positions but right wing turned into his permanent position. His try scoring prowess didn't show immediately with 1 try in his 12 appearances in his first season.
In his second full season in 1954-55 he really started to blossom with 33 tries and picked up a runners-up medal after a Challenge Cup final defeat against Barrow 21-12 at Wembley. On 17th September 1955 he rattled up an amazing 33 points with 7 tries and 6 goals against Blackpool Borough, those 7 tries remain a record. On another day he totally outshone the immortal Brian Bevan when he ran in 5 tries as Town beat Warrington 32-15 in an significantly tougher task than playing Blackpool.
National service called for Ike and Town's new coach Jim Brough's fears were realised when his star winger was called up to play for the Army in an inter services Rugby Union game v the Navy at Twickenham. Ike was only 3 months into his service and had been a prolific scorer for his Royal Artillery Unit with 75 points in 8 games playing at centre and news has spread and he was posted to a P.T training unit. He also scored 2 crucial tries and wowed onlookers as The Army beat the Navy 6-3 at Twickenham in front of the Duke and Duchess of Gloucester and a string of National Union selectors.
In 1958 Town reached both the Challenge Cup final and the Championship final, thanks to Ike Southward's remarkable feat of try scoring in consecutive games when he scored 18 tries in 10 games! In the final he agonisingly lost the ball in the act of scoring late in the game when a try and conversion would almost have certainly brought the cup to Cumbria once more.
By 1959 Ike was established as one of the game's great attractions, as a winger he was bracketed alongside Billy Boston and Mick Sullivan as the best of British in that position. He was so outstanding that Oldham forked out a world record transfer fee of £10,650 to obtain his services. He made his last appearance in that spell on 21st February 1959 in his accustomed no 2 jersey against Featherstone Rovers in an 8-5 loss.
His time at Oldham was equally prolific with 54 tries in 52 games however the truth is that Ike never really settled in Lancashire and a gentleman's agreement stood that if Ike wanted the move and Town could afford him then he would make the move back to Derwent Park. The deal stood at £11,002.10s which was 50 shillings more than St Helens had paid Wigan for the services of Mick Sullivan and that was enough to break the world record again. Ike made his second Town debut back on the right wing against Swinton at Station Road on 21st January 1961 in a 30-0 defeat. Ike continued to play for Workington Town until 21st October 1968 signing off for the first team with a 25-9 home victory over Swinton.
His career at Town encompassed 375 games with 4 as substitute, he amassed an incredible 1432 points which included 274 tries and 305 goals. Ike's best season try scoring tally was in 1957/58 when he touched down 45 times and also kicked 79 goals for a total of 293 points that season.
Ike made the short trip down the road to sign for neighbours Whitehaven and debuted against Batley in a 22-0 win as he brought the curtain down on an incredible career, playing only 6 times, playing his last game against Warrington on 1st February 1969.
So the game against Swinton in 1968 may have been his last for the Town first team however it wasn't his last in a Town shirt, in December 1972 he played for the 'A' team at the age of 37, when the squad travelled to take on Swinton with only 13 players due to injury and illness in a Lancashire Shield Competition, Town lost 15-8, Ike marking his appearance with 2 try saving tackles at full back and nearly capped his return with a superb run from his own 25 before he was bundled in to touch 5 yards from the line. The press were asking about a comeback but it wasn't, Ike was helping out and promised to do that if the team was short again and later that season he again turned out for the 'A' team against Wigan at Central Park, this time he wasn't to be denied as he ran in from over 80 yards to score a sensational try from his favoured position of right wing. As far as it's known it is the last time fans were to see the incredible Ike Southward.
So you're probably wondering about his International and representative honours. Ike's true stature in the game can be gauged from his record at the very top of the game at International level. His career at this level started when he was selected to play for England U21's v France at Avignon on 11th April 1954 as a replacement for the injured Billy Boston and exactly two years later he replaced the suspended Boston again to make his Great Britain debut on the right wing in a 18-10 victory over France at Odsal under the lights. John McKeown from Whitehaven also started at full back.
In total Ike won 11 Great Britain caps, and was a British Lion tourist on the 1958 and 1962 tours, he was a key member of the brilliant 1958 team which won the Ashes and holds the rare distinction of scoring tries in all 3 tests. He scored his first international try at Sydney in the first test on 14th June 1958 as GB lost 25-8, he scored 2 tries in the infamous Battle of Brisbane when the Lions kept the series alive with at an incredible 12 man performance as well as captain Alan Prescott playing with a broken arm to record 25-18 win. In the 3rd and deciding test Great Britain romped to a 40-17 series clinching Ashes win. The following year Australia visited the UK and Ike played in the 2nd and 3rd tests and scored a crucial try in the deciding test at Wigan as the Ashes were retained.
In 1962 Ike was selected to tour again but picked up an early injury which restricted his participation but he did play in one test v New Zealand and on the return trip via South Africa he played at Johannesburg, Pretoria and Durban, the game at Durban was Ike's final cap for Great Britain in a 39-33 win.
Ike's Cumberland career spanned between 1954 and 1967, he started with a heavy defeat against by Yorkshire but memorably his last was an astonishing 17-15 victory over the mighty Australia at Derwent Park on 18th November 1967. His Cumberland career stats read 14 games, 6 tries and 2 goals.
Once his playing career had came to an end he took up coaching at Aspatria then worked as assistant to Alan Prescott at Town then supported another Hall of Famer Eppie Gibson before taking on the role of coach. On 5th July 1975 he began a spell as coach at Whitehaven but Workington requested his return to take over from Paul Charlton which allowed Paul to concentrate on his playing duties and as captain. The combination was to oversee the tremendous 1977 Lancashire Cup victory over the much fancied Wigan. Ike also coached Cumbria on one occasion.
Ike Southwards contribution to Workington Town extended well beyond his playing and coaching career. He never broke his ties to the club acting as Groundsman and Director at various times and offering his help whenever required. Ike remained a popular figure at Derwent Park and could often be found taking in some cricket over at the Ernest Valentine Ground, Workington until his untimely death. He was inducted into the Hall of Fame one month before his passing. He wasn't just the best Cumbrian winger, he was up there with the best in the world, a deadly finisher who was a danger from anywhere on the park, his speed and step were his trademark but his defence was also superb and to top that he was a top goalkicker and there is little doubt that Ike Southward alongside Tom Mitchell and Gus Risman is one of the most significant figures in the history of the club.
Perhaps a most revealing statistic is that Ike was the first of only 6 members to join the '300' club, 300 tries and 300 goals!
Ike Southward was full of Cumbrian wit, and his Rugby anecdotes were legendary and his name stretches far and wide even deep into the Australian outback where he is affectionately known to this day as the 'Marrar', a true gift to the game of Rugby League who's personality and character enriched the sport!

Annually Town take on their fierce neighbours Whitehaven in the Ike Southward Memorial Trophy ahead of any new season, a concept introduced to assist both clubs and to remember the great man!
Thank you Ike Southward for your contribution to Cumbrian RL!