22 Jun 2020
HALL OF FAME - JAMES 'JIMMY' PICKERING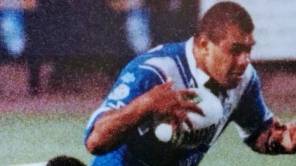 Jimmy represented Town from 1992-95 in a majestic 3 year spell.
James 'Jimmy' Pickering.
Block busting prop James Pickering was born of Fijian and English parents on 11th December 1966, although born in Fiji he lived most of his life in New Zealand playing his junior rugby at Richmond Bulldogs. Pickering went on to play for Auckland and trialled for the New Zealand Kiwis but with not being selected he represented and captained Fiji in the 1992 Pacific Cup which involved Samoa, PNG, The Maoris and The Aborigines. He excelled and was named in the team of the tournament. He moved to Australia and signed for Lakes United and on 21st August 1992 he received a fabulous offer to sign for the Canberra Raiders on a 2 year contract. He accepted the terms but in October James intimated he would be following coach Peter Walsh to Workington Town and after some juggling of the overseas register Town got their man on a short term agreement at first and the powerful, ball playing prop was on his way. Town agreed to paying a fee of around £20,000 to be paid in February 1993 to the New Zealand Rugby League if all went well and the rest they say is history!
So James began his career with Workington Town and immediately became a cult figure with his barnstorming runs and terrific step for a man of such stature. He wowed the Derwent Park faithful with his fearless charges up the field. Game upon game he would lead the pack in true Trojan style and his teammates followed his lead. Town had a pack that wasn't the biggest in size but how they made up for that with work rate and commitment to each other and at the heart and cornerstone of that was Jimmy Pickering, a relentless and fearsome tackler he played a leading role in the double achievements of 1993/94.
His 3 years at Workington Town were wonderfully successful. He made his debut on the 8th November away to Doncaster as Town triumphed 30-4 and Town finished 2nd to Keighley Cougars before taking on a Featherstone Rovers side including Test Centre Paul Newlove at Old Trafford in the Divisional Premiership, Pickering and the team ran the team from the division above very close before losing 20-16.
The following season Pickering was again at the forefront of an excellent pack and Town went on to claim a memorable double winning Division Two in emphatic style and also beating London Crusaders 30-22 in a second successive trip to Old Trafford for the Divisional Premiership Final roared on by thousands of Town supporters. Workington Town were back in the big time and rejoined the elite of the First Division.
Pickering was now to be fully tested, playing against the best props in the country but he stepped it up even further and few could cope with his swashbuckling Fijian's style and an excellent season saw Town finish 9th and reaching the Challenge Cup Quarter Finals and securing a place in the 1996 inaugural Super League competition.
After completing the season in April 1995 by assisting Town to an 18-16 victory over Widnes at Derwent Park and only 69 appearances Jimmy was never to don the blue and white of Workington Town again, he was an in demand forward all over the world.
Talent scouts were beating a path to his door and in 1995 James left Workington Town to take up a fantastic offer from top Australian outfit Canterbury Bankstown Bulldogs but sadly for James, the club and RL fans everywhere who had enjoyed his rise he never fulfilled the promise he's shown for Town. He was sent off in his first game, then broke his ankle and missed the rest of his first season, the following year he sustained a bad thigh injury and a damaged knee kept him out for half the season and just as he was starting to hit form on the field disaster struck off it when he was hit by a car whilst riding his Harley Davidson and sustained a compound fracture of the leg and missed the rest of the 1996 season. James recovered his fitness and made it back onto the field only to break his arm and a series of other injuries saw him miss the rest of the campaign. With so many setbacks James decided enough was enough and left the Bulldogs after 3 injury ravaged years for no reason than hoping for a change of luck, the club shared his frustrations and agreed to let him move on.
Pickering was snapped up by the Sydney City Roosters and fate seemed to be smiling on him as he completed 11 straight games and an offer from Castleford for the 1999 Super League season saw James head back to the UK. He played 23 games before a play-off defeat to St Helens ended their season. James headed back to Australia and appeared only once in first grade for Canterbury Bulldogs before deciding to hang up his boots.
James took up coaching the U20's at Sydney Roosters and also the Canterbury Bulldogs U18's and in 2006 he was named Chairman of the Australian Fijian RL and in 2008 he was serving as player-coach of the touring Australian Fijians and the opportunity was taken to induct him into this Hall of Fame whilst on tour!
Thank you for your contribution to Workington Town Jimmy!
69 games, 5 tries, 2 promotions 1993 and 1994, 2nd Division Champions 1994 1 Divisional Premiership 1994, 1 runner up - Divisional Premiership 1993.