17 Jun 2020
HALL OF FAME - JOHN 'SOL' ROPER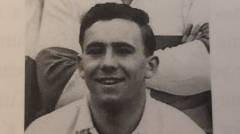 Sol represented Town between 1954-1966 a massive 398 times, scoring 94 tries, 1 goal and 284 points.
John (Sol) Roper.

John (Sol) roper was born at Pica on 12th June 1936. He went to school there before being transferred to Distington, where he came under the watchful eye of school-master Mr Thomas, who saw sufficient potential to advance him to
first team status at the age of fifteen. He started off in the number two jersey on the right wing and moved to number seven in 1951, captaining Cumberland Schools from that position in the same year.
He left school in 1952, and played for the Distington open age side at the age of 16 before moving on to Hensingham where he was selected to play for the England Amateurs (Open Age) when he was only 17, scoring a try in
England's 23-0 victory over France at Headingly on 17 April 1954.
It is not generally known but Sol also had great potential as a footballer in the Association code and it was while he was training with Workington Reds FC that Gus Risman spotted him and asked him to play in a trial before signing him up
for Workington Town.


In his book, Tom Mitchell remembers Sol's first game - 'His first game was at Borough Park with policemen on duty at the main gate for players and officials only. Sol – not the most imposing figure in civvies and wearing a diminutive pair of steel rimmed specs whose lenses matched his own frame in size – sitting in the front seat with a relative driving – was not waved through 'Sorry', said the Police officer, 'players and officials only', 'But I am a player' said Sol, only to be met with the reply 'You've got to be joking!' He was eventually allowed through somewhat reluctantly.
Sol entered the first team dressing room quite early and was about to hang up some of his gear when a regular, not much more impressed than the Policeman warned 'If I was you, I wouldn't use that peg. It's Mudge's and he will not be
amused.' Sol thought it better to change in the passage. But whatever he lacked in terms of physical size, 'Sol' more than made up for by his unflinching courage and all-out effort.


He quickly became a first-teamer, striking up a decade-long telepathic understanding with Harry Archer – probably the most celebrated half-back pairing in Cumbrian history.

Sol's first season with Town 1954/55, was eventful. Sixteen days after his Town debut, he made his County debut aged only 18 years and 2 months, when he played against Yorkshire on his home ground, Borough Park.
When the Challenge Cup came around in 1955 few thought much of Town's chances but they surprised the Rugby League world. Dewsbury Celtic, Leeds and St Helens were beaten before Town accounted for Featherstone 13-2 in the
semi-final at Leeds, when Sol was unfortunately heavily concussed.
In the Final against Barrow at Wembley, Sol was the youngest man on the pitch. Again he was in the wars, when after 52 minutes he was stretchered off with a shoulder injury. Although he returned to play heroically on the wing, Barrow
had established a winning lead and Town eventually lost 21-12.
In November 1957 Sol married his good lady, Barbara, and such was his dedication to the game, that he even played on his wedding day!
In 1958 Sol was back at Wembley as Town's captain, at that time the youngest ever Wembley skipper. The final pitted them against Wigan but once again they lost (13-9), injuries being a crucial factor. It was the same story a week later in their Championship Final against Hull at Odsal. This time second-rower Cec Thompson was taken from the field after 25
minutes with Town leading 3-0. He never returned and Hull won 20-3.
Sol finally picked up a winners medal with Town in 1962, when they won the Western Division Championship Final at Wigan, following a 9-9 draw at the same venue. The Roper – Archer duo's superiority at half-back was a vital
factor.

Sol carried on playing for Town until 1966. As a scrum-half he knew all the tricks of his trade. He fitted the stereotype – invariably the smallest man on the field but just as invariably the gutsiest. He was renowned for his low, clean tackling, his stamina and his guile.
After a year out of the professional ranks Sol joined Whitehaven and gave 5 years splendid service with 82 appearances (11 tries and 9 goals) .While at The Rec he extended his Cumberland career to 15 years, one of the longest on
record, collecting 21 caps.

In a tribute to Sol, Tom Mitchell wrote – He tackled everything that came his way. Seasoned heavyweight, Wigan front row forward Barton, all of 17 stone, bombed through with Sol just managing to grab his shirt. Harry Archer couldn't
get to the forward who went on to score. Sol always played to win and apologised to Harry who said 'Stop bothering theesel. We are 40 down, this game's gone'.
One of the most durable of players in the whole history of the club – he shrugged off injuries collected from his 398 appearances, A broken nose or two didn't deter him, he never cried off, played his heart out and nipped over for 94
tries.
He is a true sportsman, great club man, a credit to the game of Rugby League.
Never, since the club started, has a player given a better lead or set a better example in the field of courage and fortitude than John 'Sol' Roper.
Thank you John for your contribution to Workington Town.