22 Jun 2020
HALL OF FAME - PAUL CHARLTON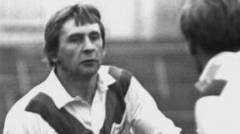 Paul represented Town between 1961-1970 and 1975-1981 with 420 appearances, 111 tries, 77 goals totalling 487 points and also received 19 Great Britain caps.
Paul Charlton – Workington Town, Salford, Blackpool Borough, Great Britain.

Paul Charlton is arguably the finest full-back to have been produced in Cumberland and that is saying a great deal when his predecessors included such wonderful players as Billy Little, Bill Eagers, Bobby Scott, Jim Brough, Billy Holding, John McKeown and Syd Lowdon. Certainly, as an attacking, try-scoring full-back, the region has never seen his equal and if he
were playing in the modern game, he would be in his element – without doubt in the superstar bracket.

Paul Charlton was born on December 6th 1941 at Woodhouse in Whitehaven. He was first introduced to Rugby League when he was taken to the Whitehaven's Recreation Ground as a youngster by his granddad, and by hisearly teens he was a regular spectator. Whitehaven had a number of stars in the fifties including the great Dick Huddart, who became his inspiration and at this early age he decided he wanted to play rugby league and emulate the Great Britain legend.
He was first taught the basics of playing Rugby League when attended St Begh's R.C. where they would play against other schools in the area. On leaving school, at the age of 15 Paul joined the Whitehaven B team which played in Division One of the Cumberland Rugby League against amateur clubs.


Paul's progress had been watched by Henry Brown the full back at Kells Rugby League Club. Henry, who had won England amateur honours, could see a big future for Paul and when the Whitehaven B team folded he encouraged him to go along to training at Kells who had an under-19 team and were on the look out for a new full-back. Henry believed it was the position ideally suited to Paul, even though the teenager had spent his school years playing hooker.

At the age of 17, Paul got into the team and his first season with the U-19's was a huge success. Amongst other victories, Kells lifted the County Under-19 Cup and the Whitehaven and District U-19 League Championship. He had stood out in a good team by scoring 12 tries, which included two hat-tricks.
Jim Kitchen was the Secretary at Kells and also scouted for promising players for Workington Town, and although Paul had always wanted to play for his home town club of Whitehaven, when approached by Billy Ivison, who was coach Workington Town at that time, he was more than happy to sign professional for a fee of £1,500.
After joining Workington Town as a 19 year-old in 1960, Paul launched a career at the top level that was truly monumental in achievement. His debut for Town at first-team level came on 23rd September 1961 in a 14-4
victory at Rochdale Hornets, when he filled in for Syd Lowden. The match was played in heavy rain which turned the pitch into a mud bath, but the match report in the Times & Star spoke about the young Charlton in glowing terms saying "His catching of the slippery ball was immaculate and he never panicked when in an awkward position"
Dedication and determination were the hallmarks of Paul Charlton's career, and his sights were set on making the full back position his own and representing Cumberland and Great Britain.
It was not until the 1963/64 season, however, that Paul achieved that first ambition. Thereafter he was immovable from the number one jersey wherever he plied his trade. Paul soon forced his way into the Cumberland team, making his debut in a 19-3 win over Yorkshire at Craven Park, Hull on 8 September 1965.
Cumberland lifted the County Championship that season and repeated the success the following season, Paul being ever-present. His career in the county colours was to stretch until 5 September 1979, when he substituted for John Risman in a 15-23 defeat by Lancashire at St Helens. It was his 32nd cap. He had captained Cumberland on 20 occasions.


Within a month of making his county debut, Paul Charlton became a Test player when he appeared for Great Britain in a 15-9 triumph over New Zealand at Odsal on 23rd October 1965. It was, however, to be another five years before he would don a test jersey again. There were some fine full-backs in his way, notably Arthur Keegan (Hull), Ken Gowers (Swinton) Bev Risman (Leeds), Ray Dutton (Widnes) and Derek Edwards (Castleford). Itwas not until the World Cup of 1970 and another encounter with the Kiwis that he would reappear in the red, white and blue and then it was as a substitute in Britain's 27-17 victory.

At club level Paul was attracting rave reviews. By 1969 he had already played 244 games for Town, piling up 391 points from 79 tries and 77 goals. During the 68/69 season he appeared in all of Town's 40 fixtures, becoming the first player to do so since Gus Risman in 1953/54, and in the same season scored 4 tries and kicked 7 goals in a home game against Warrington, to give him 26pts and became Town's second highest points scorer in one
match. It was no surprise that he became the target for the glamour club of the period, Brian Snape's Salford. A world record cash transfer of £12,500 exchanged hands between Town and the Red Devils in October 1969 and Paul became one of the games greatest stars.


He made his debut for Salford on 29 October 1969 in a 16-12 home win against St Helens. In 234 games for Salford in his six-year stint at the Willows he plundered 99 tries. Included among them were a phenomenal 31 touchdowns (plus two in
representative games) in the 1972/73 season, which created a world record for a full-back. It comprehensively smashed Colin Tyrer's previous record of 21 set four years earlier. Salford were Rugby League Champions in 1973/74 and Paul won a Lancashire Cup-winners medal in 1972, when he scored a try in a 25-11 victory over Swinton at Warrington. He also played in beaten Salford sides in the Lancashire Cup finals of 1973 and 1974. In the Players Trophy final of 1973 he also had to settle for a losers' medal as Leeds beat the Red Devils 12-7 in a gripping game at Fartown.


In 1974/75, he played in the BBC2 Floodlit Trophy final against Warringtonat Salford, which ended scoreless. He missed the replay at Wilderspool, which Salford won 15-10, but was entitled to a winner's medal.
Paul's career for Great Britain took off when he joined Salford. Between 1972 and 1974 he added another seventeen test caps to his collection. He was an outstanding performer in Great Britain's World Cup-winning squad in France in 1972 where they played Australia in the final, a game which lasted for 100 minutes because 20 minutes of extra time were required, as the teams were locked 10 – 10 at full-time. With the score unchanged after extra time Britain took the title on count-back, having won all their preliminary fixtures. And in 1974, Paul became a British Lion when he toured Australasia, along with 5 of his Salford team-mates, playing seventeen games, including all six tests.

In this purple period in his career, Paul Charlton was recognised as the world's top full-back. His attacking play was simply stunning and the game had never seen a full-back who scored tries in such a torrent. Paul was more than an attacking machine, however, for he was a magnificent defender too. His speed enabled him to cut down even the quickest wingers and he had that un-teachable knack of being able to shepherd ball-carriers to where he
wanted them.
Paul returned to Workington Town in 1975 as player-coach on a free transfer, guiding them to promotion in his first season back at Derwent Park. He played the best part of another six seasons for them, captaining them to four consecutive Lancashire Cup finals 1976-79), with the 16-13 victory over Wigan at Warrington in the final of 1977 undoubtedly one of the club's greatest days, working alongside club legend Ike Southward they masterminded a famous victory.

At this time, life in the top flight was becoming a much more comfortable place, and 1978/79 saw Workington Town achieve what was their best ever position in Division One. In cup competitions Town were proving that they
had lost none of their appetite for success, even before the season had started, they were invited to take part in the Wigan Sevens and duly came away with the trophy, with Paul as Captain. By the time he played his last game for Town at Widnes on 28 December 1980, he had rattled up 420 appearances (111 tries, 77 goals) – a club record
which remains unbroken.
A brief spell with Blackpool Borough brought his senior career to an end in 1981. Remarkably, though, he was still turning out for Carlisle 'A' team in 1992, when he had turned fifty.

Paul Charlton was one of the genuine giants of Rugby League. Only six men in the entire history of the sport have played more first-class games than Paul's 727 in a career which lasted for 20 years and certainly no full-back has come anywhere near matching his tally of 223 tries. Unless the game changes, no full-back ever will.

The following words are a tribute to Paul from Ray French (MBE):
'Any mention of a trip to play Workington Town at Derwent Park in the Sixties or Seventies would send shivers down the backs of any of my St.Helens or Widnes playing colleagues, such was the reputation of the Cumbrian club's players for courage, commitment, and, above all, class. And if any one player offered all three of those attributes it was Town's outstanding fullback, Paul Charlton
It takes special qualities for any player to achieve 420 appearances for a club (inc 5 subs) and certainly Paul possessed those qualities in abundance.

He was a gifted footballer who could turn the outcome of any match by his intervention from the back and could save the outcome by one of his match saving tackles. His commitment to Workington ran through him like the word "Blackpool" on the proverbial stick of rock but above all he was a hugely skilled and talented player who deservedly represented his country at international level both at home and abroad. Paul, both on and off the pitch, represented the values which make our great game stand out above all others, a difficult opponent to play against but it was a pleasure and an honour for me to have had the opportunity to do so.'
Thank you Paul for your contribution to a wonderful era for Workington Town.