22 Jun 2020
HALL OF FAME - EDWARD 'EDDIE' BOWMAN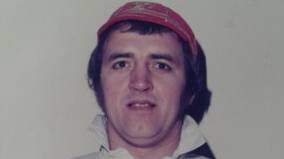 Eddie represented Town from 1970-1979, totalling 192 appearances, 25 tries and 2 goals and 4 test matches for Great Britain.
Edward (Eddie) Bowman – Whitehaven, Workington, Leigh, Wigan, Great Britain.

Eddie Bowman was born at 53 Ennerdale Terrace, Kells, on 12th November 1944, where he lived until he was 5 years old, when his family moved first to Woodhouse and then on to Mirehouse where he lived until he was married. He was the eldest of 4 children, followed by his sister Joyce and brothers Harryand Alex. (Alex later played for Great Britain Amateurs and then went on to referee at the top level in Rugby League)
His school days were spent at Kells Infants, Monkray Juniors and then Kells Secondary.

On leaving school, Eddie briefly worked at the shoe factory in Egremont, before starting at Moresby Pit (Walkmill Colliery) as a fitter, then on to Haig Pit where he completed his apprenticeship. He then had a brief spell at Marchon, before returning to Haig where he worked until it closed in 1986. He applied to start at Sellafield as a mechanical engineer, where he worked until he retired in March 2014. During his school days, he excelled at swimming and competed for the County at both freestyle and breast stroke.


He played rugby league only briefly when aged around 14, playing at scrum half. He was 17 when he got his first real taste for rugby league, when a mate asked him if he would play for Kells U19's. Eddie played centre, and that year Kells U19's were very successful, winning all their matches. Jim Kitchen who was a Kells official and also a scout for Workington, asked him if he would have a trial for Town. Eddie decided against it at that time. A little later Duncan Walker (a scout for Whitehaven) asked him to go for a trial there, which he did, with the last part of the trial being with the first team players, (which included the likes of Tom Hill, Les Moore, Alan Burns (who was Eddie's favourite player) John Pringle and Tom Gainford), he must have made an impression because the coach, Jim Brough, asked him to sign.

Eddie went home to talk to his Dad, who wanted him to concentrate on finishing his apprenticeship, but Eddie wanted to sign, so his Dad agreed, and Eddie signed that night.

Kells have produced innumerable top class players and Eddie Bowman was one of the very best, who played at professional level for seventeen years. Whitehaven was his first senior club, for whom he scored nineteen tries in 69 appearances. Big, a six-footer, over 14st and mobile, Eddie was a real eye-catcher with a hard running style in his early years at the Recreation Ground.

Following a game away to Swinton in 1966, the Cumberland Evening Star report said "Famed for forward talent, Whitehaven may be moulding another exciting prospect. Step forward the young Eddie Bowman, who last Saturday took Swinton's Station Road by storm. "This tearaway 6 footer looks a natural" that too is what Manager Jim Brough thought when he first ran the rule over him. "Bowman's forte is a spectacular, defence-slashing break, executed with a Brian Edgar-like sidestep, and has the attributes to reach the big time".
In 1970 however, it looked as though he was out of favour at his club, and it didn't take long for Tom Mitchell to make a move for him, as he knew that he was just the kind of forward needed in the Workington pack. Tom paid him a visit and Eddie signed for Town.
A move to Workington Town brought out the creativity in his play. He was a superb ball-distributor, whose subtle skills made other players look better. Eddie put in eight years at Derwent Park, gradually moving from second-row to blind-side prop as Town began to challenge for honours. Prior to his arrival, the club had seen a sudden decline in fortunes and Eddie joined Workington at a time when the club were embarking on a team building process. Gradually the revival came, and Town began to challenge for honours.

In 1973, 1974 and 1975 he played in three losing Lancashire Cup semi-finals but gained compensation when Town won promotion back to Division One and winning cup ties was again becoming a habit.
Town were once more a force to be reckoned with.
They contested four consecutive Lancashire Cup finals, Eddie played in three of them (1976, 1977 and 1978), collecting runners up medals in 1976 and 1978 but putting in a fabulous display helping Town to win the Trophy for the only time in 1977, when Wigan were defeated 16-13 at Warrington. Boxer Walker took the Man of the match award, but for many sports writers at that time, it was Eddie Bowman who really laid the foundation for victory, by leading the Town pack to total domination over the Wigan six with a world class display which saw him open up gaps in the Wigan lines time and time again, as well as laying on a great distribution service.
In Tom Mitchell's book, Eddie described the moment of history as his greatest as a player since Sydney in the World Cup.
"We have waited for this a long time. We've a great set of lads in the forwards and the backs played well. The only time I was worried was when we started losing possession but this was a match where Green Vigo was knocked into touch"


On 22 October, two weeks after the 1978 final, Eddie played his 199th and last game for Workington in a 13-5 home defeat by Wakefield Trinity. He was transferred to Leigh for £7,500, making his debut on 10 December in a 15-10loss to Wakefield at Hilton Park. His stay at Leigh was pretty unproductive and in almost two years he made 36 appearances, playing his last game against the 1980 New Zealanders.

His final move was to Wigan, who had fallen into the Second Division. He made his debut in a 15-2 home victory over newcomers Fulham on 30th November 1980 and helped the Cherry and Whites to promotion at the first attempt, making 20 appearances and scoring 2 tries.


Eddie made his Cumberland debut, while still a Whitehaven player, against Lancashire at Workington in 1969, sharing the second-row duties with his team-mate Tom Gainford. In all, he made 18 appearances for Cumberland including 2 as a substitute, and scored four tries– including one against Lancashire in 1972at Warrington, against Yorkshire at Dewsbury against Other Nationalities at Barrow in 1975. Many of his appearances were made as a second-rower where he had several different partners – Tom Gainford, Bill Kirkbride, Harold McCourt, Rod Smith, Spanky McFarlane, Les Gorley and Bob Blackwood amongst them.

The 1980/81 County Championship was a wonderful tournament for the Cumbrians who won their first championship since 1966. They then went on to defeat the touring New Zealanders 9-3 at Whitehaven with Boxer Walker scoring the match winning try.
Eddie was playing some of the best football of his life as he neared the end of his time at Workington and the test selectors finally recognised the fact by picking him for a World Cup squad to Australasia in 1977. Although he was now a regular prop, Britain used him as a second-row with George Nicholls. The pair were sensational, Eddie playing in all four World Cup games and in five of the other seven tour fixtures.

Such was the popularity of his selection that he received a number of presentations prior to leaving on tour including The Cockermouth Supporters Club, who had also named him as their player of the year, The Town supporters Club, Distington Supporters Club, Whitehaven R.L Supporters Club, the management, union and employees of Haig Pit where he was employed and businessman Dennis Pattinson.
The first Test Match of the tour was a 23-4 victory over France at Carlaw Park, Auckland, followed by a 30-12 victory over New Zealand at the Addington Show Grounds in Christchurch, with Eddie scoring one of Britain's 6 tries. The third Test Match was a dress rehearsal for the final of the World Championship against Australia in Brisbane, and although Britain lost this one 19-5, the side was not unduly worried as they lead at half time and were competitive until they lost hooker David Ward shortly after the break.
The final against Australia took place at the Sydney Cricket Ground, on 25th June, an enthralling contest which could have gone either way and although Australia emerged as World Champions, winning by 13 points to 12, many
Britons will remember being denied a try and a possible victory, when Stuart Wright intercepted a Greg Veivers pass and was streaking for the posts, certain to score, only to be recalled by referee Billy Thompson, who awarded Britain a
penalty for off-side instead of playing advantage, and so the chance had gone. These were outstanding players and none let Great Britain down on a day they went so close to winning the World Cup on Australian soil for what would have
been the only time for a British side.
Eddie finished his professional career at Wigan, playing his last match away at York on 8th November 1981.
This was not however the end of his involvement with Rugby League, as he then went on to form a new amateur club at Mirehouse in 1982 which competed with the best of West Cumbria for the next few years , passing on his experience
to the young players.

In all Eddie Bowman amassed a total of 346 appearances in the 17 years of his professional career.
He was Capped 18 times for Cumberland scoring 4 tries, was Capped 4 times for Great Britain including the World Cup Final in 1977, and played 199 games for Town from 1970 to 1979, scoring 25 tries, and 2 goals.

Thank you Eddie Bowman.