22 Jun 2020
HALL OF FAME - EDWARD 'EPPIE' GIBSON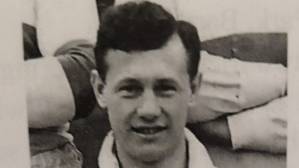 Eppie played between 1947 -1957, 335 games, 145 tries, 19 goals and 473 points and gained 4 England caps!
Edward 'Eppie' Gibson

In Rugby League terms 'Eppie' Gibson possessed everything – scintillating speed, deceptive sidestep, and fortress like defence. These were the qualities that marked Edward Gibson as one of the greatest players of his generation. A superb athlete and master craftsman in the art of threequarter play.

'Eppie' was born in the county of Northumberland on 27th November 1927. His father Edward (Ted) Gibson was a full back of no mean ability in the Association code who had entered big time soccer with the powerful Aston Villa Club, going from there to Bury, onto the famous Yeovil and Petters, and finally ending his playing days with Workington Reds.

'Eppie' was only 3 weeks old when he was brought to reside in Cumberland. It could never have been imagined at the time just how important that day would be for the infant in arms, but it was used later as a lever to bring pressure to bear on the Rugby League authorities with a view to establishing once and for all the qualifications necessary to allow a player to represent his County.
'Eppie' attended Ellenborough village school, and in the 1939-40 season when just 12 years of age he played his first game for the school Rugby League X111 on the wing. It was while at this school he won a scholarship which took him to Cockermouth Grammar School and in his first year was chosen to play for the school under 14 side. His first outing was against Workington Grammar School on the Ellis Sports ground; it was a game Eppie always had cause to remember. His head came into contact with the boot of one of the opposition resulting in a half-hour in his life still he knew nothing about.
Still at the tender age of 12 years, he had the further distinction of being chosen as scrum-half in the first 15, playing out-half to Tony Dalzel, later Dr Dalzel, a well known General Practitioner in Aspatria. In the same season he was made skipper of the under-14 side, and at 14 years of age, was awarded his school colours for Rugby Football. He had previously played not a little cricket, and was a member of the school eleven, played soccer for Ellenborough Boys Club and was chosen to play for West Cumberland Boys Clubs.

His sporting and athletic activities were not confined to ball games, for while in the fourth form at Cockermouth he demonstrated his versatility by wining the senior 100 yards, the 220 yards, high jump, long jump and javelin events. Add to these achievements that he was now the captain of the school Rugby Team, and the Cricket Team and you have a record of which any boy would be justifiably proud. Before leaving the school he thought fit to lend a helping hand to Brookland Rovers, and although only 17, not only did he play in the under-21 side, but also played in the senior team.

He also played football for Cockermouth and cricket for Maryport Cricket Club. In 1945 he transferred his affections to Loughborough College, Leicestershire, where he took up a Teaching Training course, with Physical training as an advanced subject. His proven athleticism stood him in good stead for he quickly won the 100 and 220 yards for the Athletic team, he won the College Championship over the same distances, and he represented Loughborough in the Universities Championship.

During this period he was coached by G.H.G. Dyson who was later coach to the British Olympic team. Still in his first year at Loughborough he was selected for the first 15, and it is worthy of note that he played that game at Centre. The following year he was made captain of the College 15 at the age of 18, gained colours in both Rugby and Athletics and on several occasions clocked 10.2 for the 100 yards.

In the 1946-47 season he played his first game for Cumberland Rugby Union, and later qualified for a cap. The Universities Athletic Union called on him for both their Christmas and Easter tours, and later, was in the successful English Universities side that defeated the Welsh Universities at Cardiff Arms Park by 8 points to 5. In the same colours he turned out against Scotland Universities, Swansea, Llanelly and several county sides including the more than useful Gloucester. In the 1947 season he played for Loughborough College 7 a-side team which won the Leicestershire 7's beating Leicester Tigers in the Final.
During this period he was hailed wherever he went as a player of very exceptional ability, and would undoubtedly have gained further honours in the Union code but for the fact that in the summer of 1947 he was approached by Gus Risman and joined the professional ranks with Workington Town.

His was not an easy baptism into Rugby League Football. His first game was against Dewsbury, who were then under the wing of George Oldroyd, and were the previous season runners-up in the League Championship. The game was played at Borough Park on 23 rd August 1947, and it was a losing game for Town, Dewsbury winning by 3 points to 2. Eppie played at scrum half along side stand off half Albert Pepperell. In the visiting side that day were two well known Cumberland County players in the persons of Geoff Clark and Vince McKeating.
In spite of this initial reversal the season was a successful one with the club narrowly beaten for a coveted top-four position in the last match by Bradford Northern, who themselves made up the top-four. It was this season which saw 'Eppie' playing before Town's record gate up to that time when he turned out against Huddersfield on October 4th, before 17,174 spectators in a game that Town won by 10 points to 3. In the same season the record was broken when the team played Warrington in a cup-tie on 14th February, 1948, before a crowd of 19,478 and again 'Eppie' was one of the star attractions.

Military Service had a call upon him from 1947 until 1949 when Eppie joined the Army. Throughout this spell he was playing the Union game during the week and Rugby League on Saturday afternoon. In the first week, he played for the battalion team and broke his wrist. From the Border Regiment – transferred to East Lancashire Regiment and went on to win the Western Command Cup. His bag of sports trophies from services sports had to be seen to be believed – including thirteen medals, three of them for Rugby, plus a special plaque for being 'Victor Ludorum' for winning the Athletics events - 100 yards, javelin and long jump.
Eppie came to Workington Town then, able to do 100 yards in just over even time, weighed in just over 12 stones 4 pounds, 5ft 10 1/2" tall, his heart was in the right place, and he proved to be one of the finest players ever to wear 'Town's' colours. Brilliant in attack and leaving nothing to be desired in defence, he was a model of consistency season after season and brought the great Tony Paskins to say. 'Eppie did all the hard work, I collected the glamour'.

Six weeks after playing his first game for Workington Town, on 22nd October he was chosen to play for the Cumberland County side against Yorkshire at Headingley, which Cumbria won by 15 points to 5. So completely did he blot Rylance out of the game that day, he earned himself a place in the England Team against France at Huddersfield a few days later, which England won 20 points to 15. Rylance who had been selected for the England team was injured late in the County game, and the selectors present at the match had no hesitation in drafting 'Eppie' in to take his place. In his International baptism he was all set to score an early try, but LenAston, the St Helens second-rower was on his inside and 'Eppie' unselfishly handed over to him so that the try could be scored in a better goaling position. The Press made quite a lot of this gesture, and the whole of his conduct in the game was such that only youth kept him out of subsequently England sides that season, here he was, less than two months in the game, since joining Workington Town with County and International honours! A feat never repeated before or since. The newspapers called it 'A Meteoric Rise'
He was honoured by his country on three other occasions. In the 1950-51 season against Other Nationalities at Wigan, in 1951-52 against Wales at Knowsley Road, and in 1953-54 against the Other Nationalities again at Central Park, ending up on the winning side three times out of four. In season 1953-54 he was chosen to play in the Australian Tour trial at Swinton, on his eventual omission from the party, from Jim Brough: " Eppie was most unfortunate to be left out of the touring team in 1954, for his style was ideal for the sun baked Aussie grounds".

His appearances for Cumberland would have been greater in number had it not been discovered that he had been born outside the County boundary. He was actually chosen for the County when this was discovered, and he had to be eventually left out. It was logically argued that he had every right to play for the County especially as there was no Rugby League in Northumberland. It was eventually decided by the authorities that the County in which a player was "schooled" should be his County for Representative honours.
Gibson came back and except for injury was never again left out.
In the 1950-51 season, Workington Town finished 3rd in the league, winning the last game of the season at Wigan 14-9.
The table read:
1 Warrington
2 Wigan
3 Workington
4 Leigh
This meant that Workington had to play Wigan away in the play-offs and again they won, this time it was 8-5 in front of 32,000 spectators, and this with 12 men in the second half as Billy Ivison was injured and had to leave the field as there were no substitutes.

How many times have Wigan been beaten at Wigan on 2 consecutive week-ends by the same team?
Also in 1950, was the Town visit to France, when they flew from Silloth in a Dakota, passed along the coast over Maryport and Workington, then from Manchester to Lyon where they played Lyon (the French Champions) and Cavaillon, and won both games. Books could be written about 'Eppie' Gibson's performances for Workington Town, Cumberland and England, but perhaps his greatest hour was at Maine Road, Manchester, on Saturday 12th May, 1951, when he scored two tries, helped 'Happy' Wilson to two more, this against the legendary Brian Bevan, and so sealed the fate of Warrington as Town lifted the Rugby League Championship.
Twelve months later and 'Eppie' gained the winners medal that every player strives for when he was part of the Town team that lifted the Rugby League Challenge Cup at Wembley at the expense of Featherstone Rovers by 18 points to 10, with 2 spectacular tries coming from John Lawrenson and John Mudge.
In the 1950-51 Season Eppie scored 44 tries, while his winger 'Happy Wilson' scored 42. After only 7 years, Town were Rugby League Champions and Challenge Cup winners. Another Wembley challenge Cup Final appearance in 1955 saw him collect a losers medal, but on that occasion he had the satisfaction of scoring a try on the hallowed Empire Stadium's Cumbrian grown turf. Press compliments to him were legion, Joe Egan for instance said of the left centre position when 'picking' his England team. "My man would be 'Eppie' Gibson, an outstanding centre of individual brilliance, who can lift and turn any game" A Yorkshire scribe said of him after his first County game. "Star of the Yorkshire v Cumberland game was the new Cumbrian cap Gibson, 19-years –old stand-off-half from Workington Town. Gibson's tactics split the Tykes defence and he scored the try of the match. In this brilliant effort he beat two defenders by sheer pace and swerve" Another wrote: "Time after time Gibson split the Yorkshire defence. He helped himself to a brilliant solo try after thirty five minutes" On his performance at Wakefield in 1948, a critic wrote. 'Gibson's brilliance more than counter balanced Town's loss of Risman with a broken jaw late in the first half'

In 1957, 'Eppie' made one of the biggest decisions of his career when he left Town to join neighbours Whitehaven in the capacity of player-coach following the departure of Nev Emery and with three of Whitehaven's biggest stars leaving the club – Dick Huddart to St Helens, Syd Lowden to Salford and Geoff Robinson to Oldham, 'Eppie' set about the task of re-building the team with great relish. Under his guidance Whitehaven achieved their best ever league position – sixth, and pulled in a record 18,500 spectators in 1963 to see 'Haven's Rugby League Challenge Cup Quarter-Final tie against the mighty Wakefield Trinity.

After a five year reign at the Recreation Ground which was arguably the best ever experienced by the club, 'Eppie' retuned briefly to coach Town. In latter years 'Eppie's' love affair with the game of Rugby League took him into the
boardroom as a Director at Whitehaven – where he continued to devote the same vigour and passion off the field, that made him one of the all-time greats on it.
His career Record – Workington Town & Whitehaven
Appearances: 423 (335 with Workington + 88 with Whitehaven)
Tries: 166
Goals: 32
Points: 563
Cumberland Appearances: 17
England Appearances: 4