22 Jun 2020
HALL OF FAME - WILLIAM 'BILLY' PATTINSON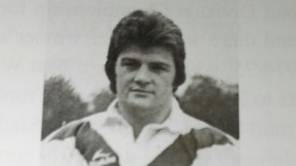 Billy represented Town from 1975 to 1987 and Town were his only club, he played 322 times, scored 67 tries and 219 points and gained 2 England caps!
William (Billy) Pattinson – Workington Town & England.

Billy was one of four brothers who all went on to play professional Rugby League, Stan, Bobby and Billy with Town. The other brother Malcolm played loose-forward in the Blackpool Borough side that reached the John Player Trophy Final against Castleford in 1977 – the same season that they won a memorable victory against Town at Derwent Park with Malcolm playing a major role.
Billy's first experience of organised sport came playing the round ballgame when he attended Dearham Junior School. He then went on to Netherhall Secondary School and operated at full-back in the school football team and at wing-forward in the Rugby Union side, where hestarted to make an impression - while still in the third year, he was playing in the fourth year team.


On leaving school he took to amateur Rugby League where he was to become hot property, His first club was Broughton Moor where he played in the Under-17, Under-19 and open age sides. It was when he moved to Cockermouth when he was about 19 that things started to really happen. During the 1973-74 season he picked up the "Most Improved Player"
award while the following season 1974-75 he was in the Cockermouth squad that reached the final of the Cumbria Amateur Cup; was voted "Player of the Year", "Referees Player of the Year" and played in the Cumberland County team that won the County Championship. He also realised his ambition of representing England when he played against France at Lyon.
Cockermouth had an excellent side in those days and several players went on to play professionally, including his brothers Stan and Bobby, Colin Hall and Joe Stewart. The Coach at the time was Derek Branthwaite who was instrumental in Billy arriving at Derwent Park.

So, Billy chose to join his local professional club, Workington Town, and remained loyal to them for the whole of his career. Billy was a loose-forward who stood 6ft 2 inches and weighed 14 stone, although he never looked that heavy. He was a heck of a forward, very quick and long striding, with a debilitating side-step, a devastating line in cover tackling, the ability to go the full eighty minutes, an aggressive streak which he learned to temper and a grin like a Cheshire cat. Tom Mitchell wrote "Early on he reacted to punishment by retaliation. I told him to model his attitude towards hurtful tackles on those of Gus Risman and Johnny Mudge. Gus because he never let his tackler know that he was hurt and John Mudge because he always reacted with a smile to let his opponent think that if that was his best shot; it hadn't worked.
Hence the Pattinson smile ("Laugh at them William – laugh")
Billy's debut in 1975 came in a rarity – a try-less Rugby League match – when Town drew 2-2 at Rochdale Hornets. Billy then scored two tries in a 25-14 home loss to Leigh on 1st February 1976. They were the first of 67 he would amass for the club over twelve seasons. Town were promoted to Division One at the end of Billy's first season. His first four years with Workington were that mini golden age when Town contested four consecutive Lancashire Cup finals and the club could still harbour ambitions of returning to the very top flight. Billy played in all four, the first three at loose-forward and the last in the second-row. Naturally, the most memorable was October 29 th 1977 when Town thrillingly beat Wigan 16-13 at Warrington. The other three, however, all provided Billy with runners-up medals, as each time Widnesproved too good, all the games being at Central Park, Wigan.

Billy and his good lady Irene were married on Saturday 8th October 1977, three weeks before the Lancashire Cup final, and such was his dedication to the game that Billy was in the Town squad the following day, the happy couple then managed 2 days away before Billy returned for training.
At this time, life in the top flight was becoming a much more comfortable place, and 1978/79 saw Workington Town achieve what was their best ever position in Division One, when they completed the season in ninth position in the league which meant they just missed out on a place in the Premiership Play-off.
In cup competitions Town were proving that they had lost none of their appetite for success, even before the season had started, they were invited to take part in the Wigan Sevens and duly came away with the trophy with Billy was of course a member of the team.
From 1980/81, however, Town were relegated, and for five seasons running the team yo-yoed between the divisions, winning promotion in 1981/82 and 1983/84, only to go down again each time. Billy was a constant eloquent reminder of what a class player could do in the right circumstances.
Billy had to wait until 1980 for his Cumbria debut, starring in a 9-3 win against the Kiwis at Whitehaven. In 1985 he played against them again, less happily, being sent off in a 32-6 defeat. Undoubtedly, though, Bill's greatest honour was when he pulled on an England jersey to represent his country in two internationals against Wales and France. His debut on 21 February 1981, as a half-time substitute, was an anti-climax in a truly dreadful match, at Headingly which England lost 5-1.

Billy played in England's next match at second-row on 18th March, enjoying a 17-4 victory over Wales at Craven Park, Hull. In 1986, loyalty for his first ten years of service was rightly recognised through his Testimonial; these are just some of the tributes written at the time:
Tom Mitchell wrote – His ceaseless foraging was the aspect of his play that brought him International recognition, but his cover tackling was just as important as he flogged outside centres and wingmen down when all seemed lost.

Players Association secretary Dick Viney wrote – Billy gave me unstinting support as a players' member of the committee.
To show his popularity and an appreciation of his prowess as a player there was hardly a year that he did not receive one or more trophies at the annual presentation night. I feel honoured to have viewed him as a player and to have been associated with him.
Cliff Hodgson, Cumbria Senior Referee wrote – Along with Brian Edgar and Eddie Bowman he is gifted with a unique sidestep – a very rare talent for a forward. Billy is respected by all opponents for his attacking flare, but most of all for his terrier like tackling.
A county player and International, Billy must be ranked as one of Workington Town's most consistent players during the last decade and always gives 100% effort. When Billy does call it a day Town will have lost a tremendous character, respected both on and off the field by all Rugby League people


Billy Pattinson was a 'one club man' giving 12 years service to Workington Town Rugby League Club. He had chances to leave, as several strong approaches were made to the club to get him away, including St Helens Hull and Salford,Hull apparently offered £55,000 but Billy toughed it out until he retired in 1987, having put in 322 action-packed appearances.
Billy is still a regular at home games and you can often find him and his grin in the Gus Risman Bar having a pint and a crack. A very popular and imposing figure even now.

Thank you Billy Pattinson for your commitment to Workington Town.