17 Jun 2020
HALL OF FAME - HARRY 'THE ARCHITECT' ARCHER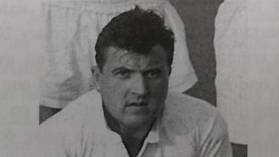 Harry represented Town from 1952-1967 with 387 appearances, 64 tries, 8 goals and a total of 208 points.
Harry Archer - Workington Town (1952-1967)
Born in Dearham on 26th November 1932 Harry Archer was destined to be a rugby league player, it was in his blood, his father Robert was the Dearham half back and also an amateur international who came out of retirement to help Workington Town when the club was first formed. Early in his life Harry played for Dearham, Grasslot and Glasson Rangers but it was Workington Zebras in the other code that he played his initial senior rugby at the tender age of 16.
He built a strong reputation at the Zebras but the RAF called as Archer plied his trade for the Flying Training command alongside other international players. As he neared the completion of his training massive clubs Wigan, Workington, Hull and Halifax all made offers but Archer declined all advances and with his Zebras team due to play in the Cumberland Cup final he had no interest in their offers, however with Town persistent Archer made a gentleman's agreement that if they came to see him after the final and he was ready to turn pro he would only consider Town and Town only.
Tom Mitchell was present at the final and couldn't have failed to be impressed as the dazzling running and swerving of Harry shone, Archer duly honoured his word when at 11:15am on Monday 30th March 1953 the 20 year old signed professional forms for Workington Town Rugby League Club with his father Robert by his side. The signing on fee was not disclosed but it was believed to be a substantial one.
Only Paul Charlton and John Roper have given Workington Town more service in terms of appearances than Harry Archer, Harry played a massive 387 games between 1953 and 1967, crossing the line for 64 engineered tries. He was heftier than most conventional league stand-offs at 13st 8lbs and played a robust game, being especially strong in the tackle. He was not merely a stopper, he played with his brain and had fine handling and kicking skills, which set up many a try for his colleagues.
Of course, he is mainly remembered for his long and bewildering half-back partnership with last weeks Hall of Famer Sol Roper. THE greatest double act in the club game, together they were at the heart of one of the finest teams in a golden age for rugby league. Archer and Roper had the chemistry – when they clicked, Town ticked. Brilliant individually but it was a case of being even better together – the perfect half-back partnership.
The two were first paired on 24th September 1955 in a 29-15 success at Dewsbury and the following week they played together against the New Zealanders. For more than a decade and well over 300 matches, the two seemed indivisible. They did not score many tries, but created hundreds for the likes of Ray Glastonbury, Piet Pretorius and Ike Southward.
Harry began his Town career at the close of the 1952/53 season and finished on the losing side five times in his first six games. It was 1955/56 before he established himself as Town's permanent number six and it was in the same season that he made his Cumberland debut, scoring a try against Lancashire at Derwent Park. He also played against Yorkshire in 1955, along with Sol Roper, but did not get another cap until 1961. Thereafter he was a regular, gaining County Championship winners medals in 1961/62, 1963/64, 1965/66 and 1966/67, making a total of 14 Cumberland County Caps.
Harry was all jinking artistry and aplomb; a master of the stand-off play which won him his highest honour, a place on the famous Great Britain Ashes-winning tour of Australia in 1958. He was selected in the second tour trial at Leeds on 19th March and scored a rare hat-trick playing outside Alex Murphy, as the Greens beat the Whites 41-18. Harry and Wigan's Dave Bolton were chosen as the Lions stand-offs for Australasia. However, the tour was spoiled for Harry by a succession of injuries and he only played in seven games in Australia and one in New Zealand. At this time, the Workington side were so good that they reached both the Challenge Cup final and Championship final in the same season (1958), Harry being a major factor in getting them there. Town lost 9-13 at Wembley to Wigan, injuries playing a big part. Harry was knocked senseless by a high Mick Sullivan tackle early in the game and was not his usual effective self. A Championship runners-up medal was all he got the following week too, when Hull beat Town 20-3 at Odsal, as the Cumbrians played with twelve men for 35 minutes.
He had to wait until 1962 before picking up a winner's medal, when Town won the Western Division Championship. Harry played his last game for Town on 19th November 1966 against Huddersfield before joining Whitehaven, for whom he made seven appearances before retiring. Tom Mitchell on 'The Architect' Harry Archer. "Contrary to my usual endeavour to be at the kick-off of any match in which a player I was interested in was down to play, I only saw the second half of this particular game on the Ellis, home of the Zebras. It was all I needed to convince myself that Harry Archer had his own special brand of talent and that he could fill the stand-off position at Derwent Park and possibly hold his own there, with any sort of luck, for some considerable time. He went on to have a splendid partnership with his scrum half 'Sol' Roper' who captained the side, but Harry left no one in any doubt that he was the Architect to orchestrate the planned moves.
Later in his life Harry spent some time coaching and took over as joint coach with Bill Smith as joint head coaches of Town during May 1983 until June 1984 taking the team to promotion at the end of that first season.
His playing record read 513 appearences, 69 tries, 10 goals.
As always we would like to thank Joe Holliday for his fantastic research and Tony Boyd for their help in providing the information used for this article.