17 Jun 2020
HALL OF FAME - BRIAN EDGAR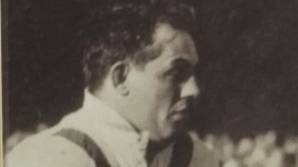 Brian represented Town all his career from 1954 to 1968, playing 384 games, scoring 83 tries, 27 goals and 303 points. He also represented Great Britain 11 times.
BRIAN EDGAR - A one club man and a 3 time Great Britain tourist to Australia and the first inductee into Workington Town's Hall of Fame!
Born in Great Broughton in 1936 his early involvement was was in Rugby Union in which he played for Workington Zebras, Cumberland and was capped for England Schoolboys.
A powerful man, standing at 6ft 2" and weighing 14 stones he had the required stature to deal with the physiques of tough men brought up in the coal mines of Yorkshire, Lancashire and Cumberland.
Brian signed for Town on January 26th 1954 when Tom Mitchell paid £1250 to prize him from the Union set up. He was much sought after with Wigan, Whitehaven and Barrow all more than interested in acquiring his services. Brian went on to spend his entire career at Workington Town.

At the time Brian felt he had maybe signed too soon as he was being tipped for full England Rugby Union International honours. He was however perfectly built for the demands of Rugby League and he was a second rower who had it all, pace, skill ,a ramrod hand off and a brilliant side step, he had the skills of a stand off and the body of a forward. He was big, very big and his fortee was to create the gaps to allow colleagues to go through them. Brian made his Workington Town debut in an 'A' team game in January 1955 where he scored in a 21-15 home win against Wigan. His full first team debut was not long in coming and just after he turned 19 he played against a strong Huddersfield team coming out the wrong side of a 44-13 result. He wasn't expecting to be involved but was handed the privilege of playing in the 1955 Challenge Cup Final defeat to Barrow in only his 6th appearence. Barrow ran out 21-12 winners.
He played in Town's other finals of the era, in 1958 a storming first half from Edgar appeared to put Town on their way to victory but a concussion to Brian and injuries to other key men saw Town go down 13-9 to Wigan. He was rewarded for his consistently high quality displays with a call-up to the Great Britain team for their forthcoming Ashes series and afterwards he became recognised as one of the best forwards in the world.

Brian played in the first test and made a further 17 appearences scoring 6 tries during that 30 match tour! Four years later in 1962 he toured again, this time playing in all three Ashes tests, the first two ending in victories. His second-row partnership with Dick Huddart was absolutely devastating and is still revered in Australia as one of the most outstanding ever seen in that country. He was voted the world's best forward by the Australian press, some accolade! Brian, now 16 stones plus and operating at openside prop was made captain for all three tests, the crowning glory for any player.
At club level he played his last game for Town in a 13-8 victory over Salford on 28th October 1967. His career at Derwent Park encompassed 384 games, 83 tries, 27 goals and in 1962 he led Town to the inaugural Western Division Championship Final in which Wigan were defeated 10-0 in a replay after the first game ended 10-10. This was in fact his only winner's medal which was a scant reward for such an icon of Cumbrian Rugby League. He had everything bar a nasty streak and amazingly he never found himself banned in over 400 games! Amazing for a player who was always in the thick of the action and in the heat of some torrid battles.
His career totals read 451 appearances, 98 tries and 27 goals. A true Town legend and fully deserving of his place in the Workington Town Hall of Fame.

Who selects the Hall of Fame members?
Read on and find out all about the Vice Presidents Club. The Vice Presidents Club was launched in 2005 with new club Chairman Les Smallwood heavily involved with its inception.
An initiative aimed at increasing the revenue streams of the club, with proceeds mainly going to support team building.
The Fee to join this Exclusive Club is £25, with a £10/year renewal, paid in January each year.
New members receive a Vice Presidents tie (for the men) or a Vice Presidents Broach (for the ladies).
Vice Presidents evenings are held on a regular basis in the Tom Mitchell Lounge, with guest speakers from the Rugby League world, including some of Workington Town's past favourites, as well as more nationally known personalities. The cost of these evenings is usually £15/£20 and includes a meal.

Another key privilege afforded to the Vice Presidents, is the choosing of entrants to the Workington Town Hall of Fame. This is done periodically via a voting system at chosen events.
We currently have 15 Hall of Fame members, with the latest being Arnold "Boxer" Walker who was inducted in September 2018. These events have proven to be very enjoyable and popular, with places, especially the Hall of Fame Inductions, often in big demand.
Priority for tickets is given to Vice Presidents Club members.
There are some places available in this exclusive club, and if anyone is interested in joining, please contact Tony Boyd for further information.

Tony's mobile is: 07850552229


Up the Town!
#ourtown