27 May 2020
HALL OF FAME - IAN WRIGHT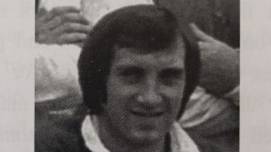 Ian represented Town from 1966 - 1979 and were his only club, scoring 168 tries from 302 games at centre!
Ian Wright: Workington Town & England.
Ian Wright was born in 1946 in the village of Broughton near Cockermouth, where he grew up with his brother Ken and attended the village Primary school. His first experience of organised sport came playing football for Broughton Juniors. He then went on to Cockermouth Grammar School, which had produced the likes of Workington Town captain Brian Edgar, former Workington and Whitehaven player Eppie Gibson and others who have made their mark in Rugby Union and Rugby League. He enjoyed sport in general, but his main interest was in Rugby Union and he quickly became a regular in the school team playing at stand-off.
When he left school in 1964 he joined Cockermouth Rugby Union Club, and in his two years there, he made great strides, being selected to play in the West Cumbria District 15 against other counties, for the Cumberland Colts, and also the North of England against the Midlands when he played his one and only game at full-back, all the other games being at stand-off.
Cockermouth first team were almost unbeatable in this period going on to win the 1966 Cumbria Cup Final 11-0 against Wigton at Keswick.
Ian became regarded as one of the most promising Rugby Union prospects in the county, described as a hard, fast, direct-running back with a clever side-step. By then his performances were being noticed and Mr Bill Gate, the Chairman of the Cockermouth branch of Workington Town Supporters Club was assigned to watch Ian over a period of time. His reports prompted Workington Town to add his name to their pay-roll.
The signing of the new professional made history, as Mr Tom Mitchell had arranged to do an interview with Border Television on the club's future and decided it would be interesting to televise the signing live.
The newspapers said it cost Workington Town £1,500 to gain Ian Wright's signature in August 1966. He was definitely worth it, even though it was a lot to pay for a teenage Rugby Union stand-off in those days.
Although he was a stand-off for Cockermouth, he only played once for Town at number 6. Apart from another half-dozen games on the wing, all his 302 games were played in the centre, where his speed, strength and an eye for an opening made him one of the best of his generation.
His first appearance at Derwent Park gave an indication of what would follow when he scored a hat-trick for the reserves against Rochdale Hornets 'A'. The news paper report said "with a mixture of youth and experience, Town scored freely and their 10 tries gave an indication of the hold they had on the game. The most heartening performance of the day came from Ian Wright, Town's new recruit playing in the centre, 19-year-old Wright showed a rare turn of speed and a gift for spotting half a chance. He scored 3 lovely tries"
A week later, within a month of signing as a professional, 19 year-old Ian Wright found himself in the first team squad against Salford, Town winning by 30 points to 13.
In this first season (1966/67), the Workington Town team sheet's had a very unusual look about them as their half-back pairing for over ten seasons Sol Roper and Harry were no longer to be seen. Sol had departed for Whitehaven, where he was to be made player/coach, and his stand-off partner Harry only appeared in the team on five occasions during the early part of the season before he also joined the old enemy in March 1967. The early season involvement of Harry meant that Ian was moved from stand-off to his new role in the centre for the game against Huddersfield in which he set up four tries and was unfortunate not to get on the score sheet himself
This was a very low scoring season with 109 tries in all competitions. Ian Wright in his first year, being top scorer with 18 with 11 coming from his young winger Keith Davies. During this year, the Town 'A' Team won the Lancashire County Challenge Shield Competition with Ian a member of the team
Ian certainly had try-scoring instincts and his total of 168 for Town is bettered only by Ike Southward. His first try for Town came in his second appearance at Wigan on 24 September 1966 and at the end of his debut season he had topped the club lists. He went on to be Town's leading try-scorer in eight seasons, the last six consecutively. But for injuries, which kept him out for almost the entire 1967/68 season and the whole of 1971/72, Ian would certainly have broken the 200 try barrier.
Coming back from injury in 1968/69, he had his most prolific campaign, scoring 23 tries. The only centre to score more was Leeds's Syd Hynes.
Ian made his debut for Cumberland during the season and won selection for England Under 24s (playing alongside the likes of Mike Stephenson from Dewsbury and Mal Reilly from Castleford), when he scored two tries in a 42-2 victory over France at Castleford.
Ian twice scored four tries for Town against Swinton and Blackpool, a feat he would repeat six seasons later against Doncaster
Also, in February 1969 Ian along with other team members, Malcolm Moss, John McFarlane, Bill Pattinson, Paul Charlton, Harry Whittaker and Keith Davies, captured the floodlit "Sevens" trophy sponsored by Players No. 6, with a 10-5 victory over Salford in the final.
Ian went on to play 9 times for the County including a game against the Australian Touring team in 1973
His county career began with seven defeats in a row, before he finally tasted victory when Yorkshire were beaten 10-7 at Workington, two weeks before his final game against Other Nationalities at Whitehaven when Ian scored a try in the 19-12 win.
Workington never really came near to winning any of the major competitions in Ian's time, until 1975/76.
The club had been going through a process of team building and gradually the revival came, and they gained promotion back to division one, but lost for the third consecutive season in the Lancashire Cup semi-finals.
Town's revival continued in 1976/77, their first season back in the top flight. They reached the Lancashire Cup final in Ian's last three seasons at the club. In 1976 Ian scored in all the rounds except the final, when Widnes beat Town 16-11.
But in the most memorable of the finals, 1977, he scored the opening try, a beauty off Les Gorley (keep an eye out as his story is coming soon!), when Town thrillingly beat Wigan 16-13 at Warrington.
In Tom Mitchell's book, Ian is quoted as saying "We won the way we planned it with the forwards making the breaks and the backs sniffing for the chances. It was the try of my life and I don't care if I never score another! The man we did it for was Tom Mitchell"
Ian's last season, 1978/79 saw Workington Town achieve what was their best ever position in Division One, when they completed the season in ninth position in the league which meant they just missed out on a place in the Premiership Play-off. Before the season started, they were invited to take part in the Wigan Sevens and duly came away with the trophy. Ian of course was a member of the team.
Even in this, his last season, Ian topped Town's try-scorers with thirteen, including a hat-trick in a glorious 31-11 triumph at Leeds.
Ian Wright was a one club man, providing 13 years loyal service to Workington Town Rugby League Club from 1966 to 1979, writing his name in the Club Record Book's top 10 achievers, with 302 appearances, 168 tries - second only to the great Ike Southward, and with a point total of 506.
The following words are a tribute to Ian from former team mate Ray Wilkins on the night of Ian's official induction into the Workington Town Hall of Fame.
Ian, I am delighted that you are being inducted into Town's Hall of Fame. It's over 40 years since we first met, it seems like yesterday. I remember my first training session, we sprinted together (well for the first few yards anyway). The next sprint I moved along the line trying to find someone more of my pace. It was a real eye opener. Your pace was what defined you as a player. Sustaining top speed for long distances is rare. All top sprinters strive for it. It was no effort for you.
Apart from the highs and lows we shared as Town players. There was another memory that still haunts me to this day. It was during a fundraising (strip show) event for your benefit season where I became part of the entertainment. I still bare the emotional scars. Still it was for a good cause.
Enjoy tonight you were a model professional and deserve this honour. Take care, Ray Wilkins.
Ian was a classy and speedy centre and his hallmark was his long distance try-scoring, which is legendary amongst his teammates at the time and in the eyes, hearts and minds of the older Rugby League fan, and it was only injury problems which prevented Ian from claiming more international honours.
On 8th December 1979 Ian hung up his boots, his last appearence for Workington Town was in his usual centre position as Town recorded a 14-13 victory against Castleford.
Ian Wright, we thank you for your contribution and loyalty to Workington Town.
Thank you once again to Tony Boyd and Joe Holliday for their contributions to this article.
These stories are of Workington Town's Official Hall of Fame inductees all proudly displayed in the Tom Mitchell Lounge at Derwent Park. We are using modern platforms to bring these stories to a wider audience.