27 May 2020
HALL OF FAME - JOHN 'LOPPY' O'NEILL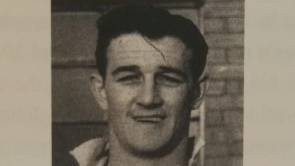 John represented Town between 1956 and 1966 and was another who committed his full career to one club, 268 games and 117 tries, 1 goal and 353 points!
John 'Loppy' O'Neill.
John O'Neill cut a striking figure. 6ft 1" and 14st, his gangling frame was suprisingly deceptive but he was without doubt a natural rugby player! Strong in defence and in attack he had a neat side step, with a high knee upright running style, he looked unorthodox but could he play ? you bet he could!
Here's his story!
John was born in 1937 at 5 Greenwood Terrace, Ellenborough, Maryport, in the same road incidentally as Ike Southward and Andy Key. The family moved to Netherton when he was still a baby, where he grew up with his brother Kenneth. He went to school at Netherton Infants, before moving on to Maryport British School, and then on to Solway House Secondary School, which he left at the age of 15 to start work at Chapel Bank as an apprentice moulder
While at Solway House School, John got his first taste of playing Rugby League under the guidance of the Sports Teacher, Dennis Law. During this period Solway House were top of the local leagues. John played his rugby here at centre.
After leaving school, John played briefly for Ellenborough, the home suburb of Brookland Rovers, where they have an eye for a player, but few know that John O'Neil was one of their rejects, their biggest mistake in many years. Brookland Rovers was John O'Neil's local club, living on the doorstep of the Rovers old ground, Bradbury Avenue. He was terribly keen to play for their Shield Team. However, Brookland were the holders of the shield and planned to win it again, without John, who was young and not considered up to full Rovers Shield standard at that time. The officials were decent enough to break the news in good time and give him the chance to get a game for another shield team. The lucky team was Risehow who were having a struggle to build a team, and welcomed him as a new recruit. The day the first round came, Brookland met Hensingham on Maryport Athletic Ground and Risehow had to play at Solway Park against a strongly fancied Glasson Rangers thirteen. Hensingham beat Brookland very narrowly in a tense game. The officials and supporters were a bit down in the mouth, because they had not expected it, and the atmosphere was like an inquest in the pavilion on the Athletic Ground, except in the Hensingham dressing room. To add a thunder clap to it, a boy cyclist rode post-haste from Glasson and rushed into the pavilion spurting out the words 'Risehow's beaten Glasson and 'Neilly' (John O'Neil) scored two tries! If ever anyone rubbed salt into an open wound quite innocently, it was that 14 year old boy at that moment. Risehow went on to win the Shield and by that time they were under no illusions. The lean, lanky look of young O'Neill meant nothing as the performance on the field of play was definitely there. He could have signed for Brookland or any other club he cared for, but Risehow gave him his first chance and he stuck to the Flimby Colliery club.
At Risehow he was playing in the first team as a youth at 19 years of age, where others also noticed him, and in 1956 he became a junior international for England playing as a second rower in the u21's game on 15th April against France at Tarbez in a 10-8 victory. The u21 team flew to France from Blackbushe Airport in Surrey along with the English Services team which included Town players Ike Southward and Andy Key. He had also been noticed by Town, and they were quickly in for his services. John met with Manager Jim Brough , and he signed for Town on 18th August 1956, giving him the princely salary of £9 for each match played which was a win, and £4 for each match played which was a loss.
Some critics likened him to his great contemporary Wigan's Eric Ashton, which was high praise. Although local boy John had played his youth rugby at second row, he earned his reputation with Workington Town as a prolific try-scoring centre. Five months after signing with the club he made his debut at left centre, as partner to Bill Wookey, in a 9-17 defeat at Salford in a first round Lancashire Cup-tie. A week later he scored the first of 117 tries for the club in a 15-9 win at Wakefield Trinity. In total he played 271 games for Workington.
John was given the nick-name of "Loppy" having been named after a racehorse called "Loppylugs" which won the Cambridgeshire Handicap in 1956.
When Town beat Leeds 13-3 at Headingly the Newspaper report said "Loppylugs was Workington Town's star. He certainly went like a racehorse in the tremendous burst from behind his own line that started off a length-of-field try-scoring movement. Leeds were attacking furiously on Workington's line trying to pull back an 8-3 deficit. They lost the ball and it was flung back to O'Neill. The tall Cumbrian ran straight as an arrow through the Leeds defence before hurling the ball out to winger Bill Wookey. Wookey beat Hodgkinson with a beautiful infield swerve, raced for the halfway line and passed inside to Leatherbarrow, who had a clear run to the line".
In 1957/58 he had a superb season as Town reached Wembley, had a run of 22 unbeaten matches and contested the Championship final. His form at right centre to Ike Southward was a revelation. John claimed 20 tries in 41 games and played in both finals, only to experience defeat against Wigan and Hull. In the Challenge Cup, Town had progressed to the Final via matches away to Leigh and Widnes, and then a home tie against Warrington, to set up a semi-final between the 1952 Cup Finalists Workington Town and Featherstone Rovers. Town took the honours in a low scoring game by 8 points to 2, setting up a return to Wembley for the 3rd time in 6 years on May 10th 1958, which saw Town perhaps unluckily defeated by 13pts to 9 by Wigan.
A week later they also lost to Hull by 20pts to 3 in the Championship Final at Odsal. They had earned their place in the final by virtue of them winning 18 consecutive league matches from December to April. (A period in which they had also won 4 Challenge Cup matches) This meant that they finished 3rd in the league and then played 2nd placed St Helens in the semi-final of the Championship Play-off, which they won by 14pts to 13, before meeting Hull in the Final on 17th May.
John played in an era of outstanding centres, having to contend with the likes of Neil Fox, Alan Davies, Jim Challinor, Eric Ashton and Phil Jackson, to name but a few.
In other circumstances he may have been a 'Test' centre. Instead he had to be content with fourteen Cumberland caps, beginning with a win over Yorkshire at Whitehaven in 1958, when he showed up well against a young Neil Fox. On 14 September 1960, against Yorkshire at the Rec, he wrote himself into county history. Partnered in the centre by Dick Huddart, Cumberland hammered their more illustrious opponents 43-19 and John equalled Jack Coulson's county record of four tries set back in 1932. No one has since emulated that feat. John's Cumberland career brought him County Championship winner's medals in 1961/62 and 1963/64, while his ten career tries for the county have seldom been exceeded. Cumberland's performance against Yorkshire in 1960 came at a very opportune time because the Rugby League was seriously considering dropping Cumberland from the County Championship and replacing them with an 'Other Counties' team.The season continued to be a good one for John who led Town's scorers with 21 tries. He did even better in 1962/63 with 24 tries from 40 games.
This season started with a new league set up, with Lancashire and Cumberland teams forming a new Western Division, while the Yorkshire teams formed the Eastern Division.
The season was closed down for the whole of January and February because of extremely hard frost, but by then Town had tasted the only bit of real success that they were to have during the sixties. While the divisional leagues were being played for, a points scoring competition – The Mackeson Trophy – was also being contested, with the team that had scored most points over a given period being awarded Mackeson tankards. Town, who set off at a cracking pace won the first two sets of tankards and were the only team to win three sets during the season.
Town won all eight of their matches in the Western Division and ended up top of the league, giving them a home fixture in the semi-final play-offs on October 15th, 1962 against Wigan, in which John scored a hat trick of tries in a 27-9 victory, taking them into the final on November 10th, 1962 against Widnes, to be played at Wigan's Central park ground. The final was a hard fought match ending in a 9 points all draw, when in the closing minutes Town full-back Syd Lowden dropped a long distance goal to level the scores.
The replay 11 days later on Wednesday November 21st was a bit more one sided with Town coming home winners by 10 points to nil, making them the first ever winners of the Western Division Championship, and giving John a well deserved winners medal.
Of all the games John has played, perhaps the happiest memory comes from the 1963/64 season when Town visited the mighty Swinton, unbeaten at home for games on end, it was Loppy who won the game with a speculative drop goal a few minutes from time.
John played his final game for Town against Hull K R at home in the cup on 19th March 1966.
John O'Neill was a one-club man, providing 10 years loyal service to Workington Town Rugby League Club from 1956 to 1966, writing his name in the Club Record Book's top 10 achievers, with 271 appearances, 117 tries, and 1 drop goal, amassing a total of 353 points.
A true Town legend!
With thanks to Tony Boyd and Joe Holliday