14 Mar 2020
TOWN AIM TO SOAR ABOVE THE EAGLES!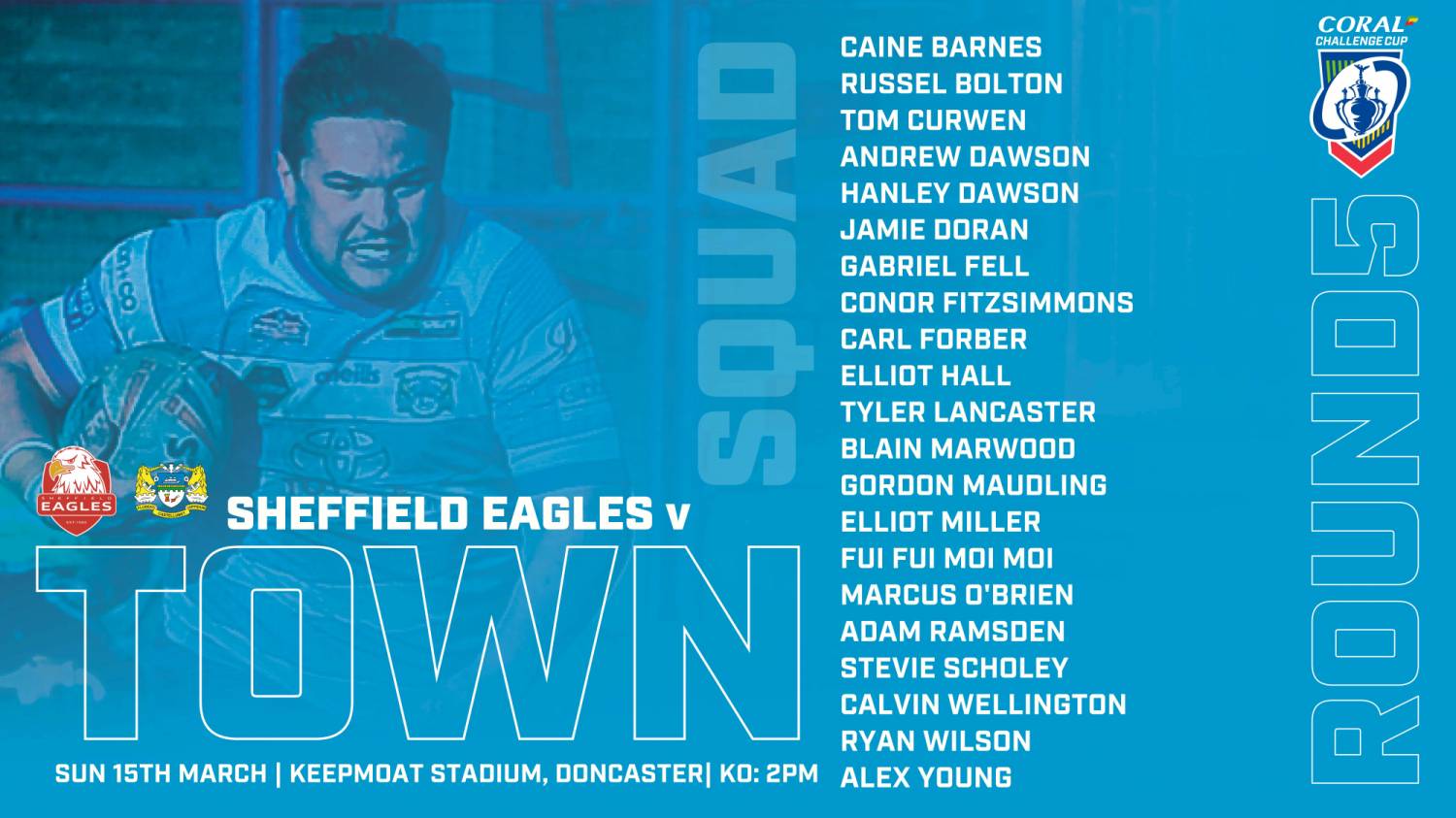 Chris Thorman's 21 man squad for Coral Challenge 5th round tie!
Workington Town's 21 man squad has been named for this Sundays Coral Challenge Cup tie against Championship side Sheffield Eagles, Kick off 2pm at The Keepmoat Stadium, Doncaster RLFC.
We will be looking to get back to winning ways after last weeks 28-22 defeat at Newcastle Thunder in Betfred League One action.
The iconic 1945 style away strip will be worn in this fixture!
Sheffield Eagles have issued this link for all relevant match information. https://www.sheffieldeagles.co...
We acknowledge that there is concern in relation to the Worldwide outbreak of the Covid 19 virus however the match goes ahead as scheduled as per the RFL guidance in relation to the Coronavirus outbreak.

Here is the full statement.
Covid-19 Coronavirus - New Guidance from Government re: Delay Phase
Following the update from Downing Street, the RFL has communicated with all clubs about the position for this weekend's fixtures and beyond.
For supporters and those involved with the community game, we recognise the situation may also be unsettling or confusing, with a number of high-profile international sporting competitions and fixtures involving British clubs being affected.
The Prime Minister and the Chief Medical Officer have reiterated that there is no medical rationale for restricting large public events such as sports fixtures – and our programme is therefore due to go ahead as planned this weekend.
The RFL and Super League have again reminded clubs of the importance of sensible hygiene for all those who attend, and especially for players to set the right example in that regard.
The situation is clearly fluid, and we recognise there is likely to be a significant impact on our competitions at some point. We have been considering contingencies, in discussions with DCMS, the clubs and other stakeholders, for some time, and that will continue.
There are also different considerations for teams who have matches or tours scheduled abroad in the coming weeks, and we are seeking further guidance on these points.
For the moment, we hope supporters will feel comfortable in attending matches, and backing their clubs, in challenging times for everyone.
A further statement from Ralph Rimmer, RFL Chief Executive.
We note the unilateral decision by the Premier League and EFL to suspend football fixtures, returning on 4th April (subject to medical advice and conditions at the time) due to a number of confirmed positive cases that have been confirmed in football clubs.
We understand that following confirmed cases and in line with the current advice from the Government's Chief Medical Officer and Chief Scientific Adviser this requires those people in close contact with confirmed cases to self-isolate - inevitably this includes other players and coaching staff therefore making the continuation of fixtures challenging.
As you know, we have been in continual dialogue with DCMS on this matter, including again this morning and on the basis of there being no confirmed cases reported to us by our clubs, fixtures remain in place for the coming weekend. At all times the RFL has followed and is following the Government's guidance as requested.

We will update everyone as and when we have further information to give you.
For supporters travelling to support the team this weekend drive carefully and if you are in any doubt about your own health please follow the guidelines.
Thank you
Workington Town RLFC