14 Feb 2021
TOWN'S 2021 FIXTURES ARE HERE!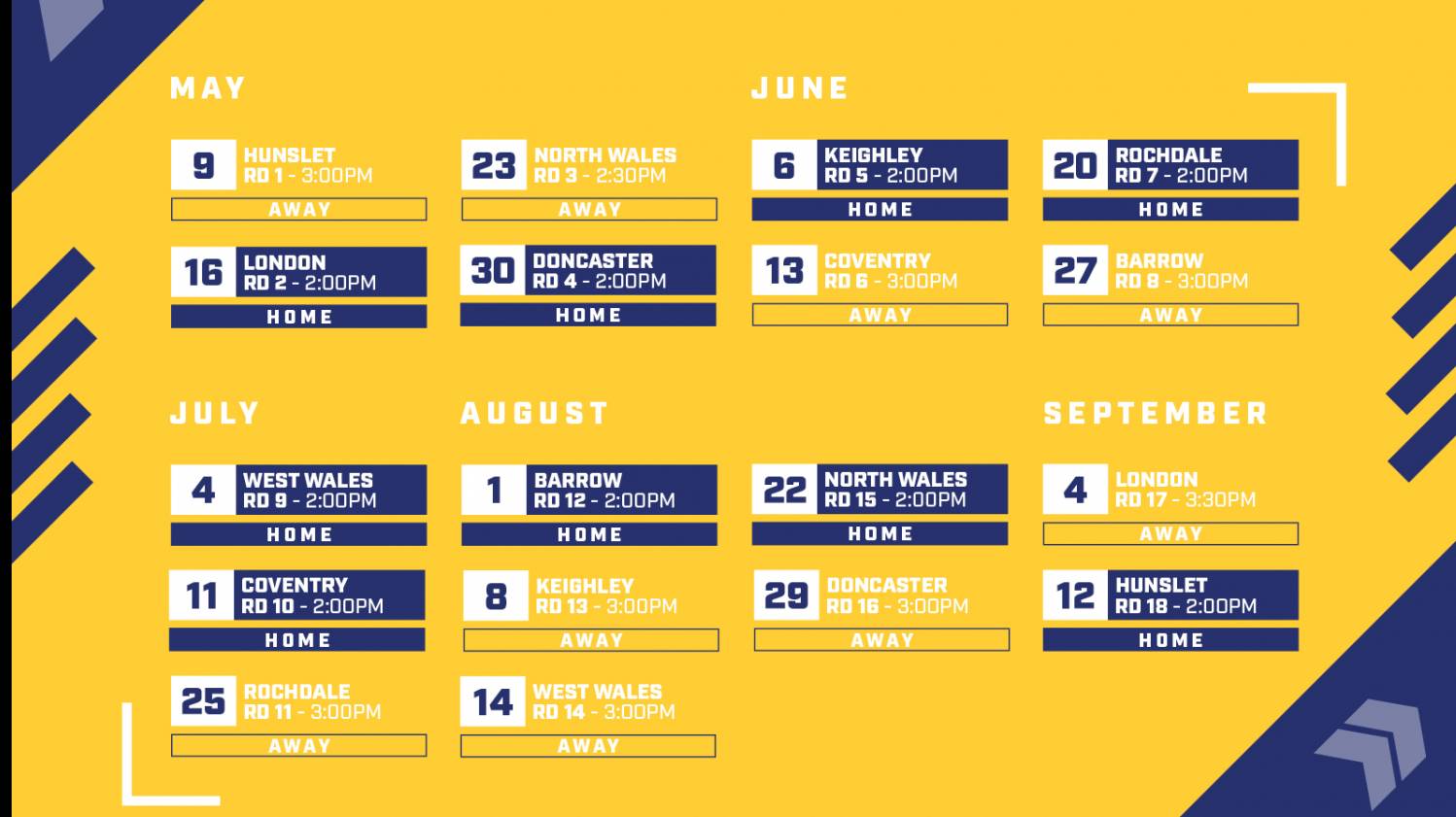 Trip to Hunslet first up for Town!
Chris Thorman's Workington Town took their first step towards a return to playing by completing a covid secure training session on Saturday. The first team squad we're joined by a Development Squad of players invited by Head of Development Gary Hewer who will have an extended opportunity to train alongside the professionals, developing and seeing first hand the fundamentals required to make the step up from the Community game.
The training session was a great success and we'd like to put on record our thanks to the volunteer staff who have stepped up to provide the necessary staffing levels to achieve the efficiency desired from the testing process, to taking a step on to the playing surface at Derwent Park.
With that giant first hurdle overcome we can now look ahead to the first game! On May 9th we hit the road to Hunslet followed by the first action on Derwent Park in over 12 months when we entertain the London Skolars on 16th May, followed by a trip to North Wales Crusaders (away) and then rounding the first month back at Derwent Park with us entertaining Doncaster RLFC.
One notable change we would like to communicate to you is an amendment to the traditional kick off time from 3pm to 2pm, as a Board of Directors, after positive feedback from our supporters groups we are making the change for the following reasons:
For the first month there is a strong possibility that games will be played behind closed doors and streamed via the OuRLeague app to give fans the opportunity to see the action.
Traditionally 'LIVE' Premier league football matches kick off at 12/12:30pm and 4 / 4:30pm, we feel that it is unwise to try and compete for this viewing audience and be better to try offer a solution rather than to make people choose one or the other option. This way you can watch all your favourite teams, whether it's a round ball or oval shaped!
When we do return to crowds and hosting matchday hospitality we also feel that the continuation of the Sunday Carvery food option is more suited to a more traditional eating time of around 12:45 / 1pm as opposed to 1:45 / 2pm which has occurred previously.
We have the intention to install suitable 'Live' TV options within the ground to offer all solutions under one roof and for supporters to be able to watch Live sport at Derwent Park in the bars from 12pm on matchdays, followed by the Town match at 2pm and then followed by the option of watching Live sport post match back in the bars which would include any Live football at 4pm and then any matches on the OuRLeague app at 6pm as was the case last year.
We think that it's very important that our players and staff spend time with our support base and after discussions with Chris and senior squad members we feel it allows a suitable time window especially for our travelling club staff.
In the Summer months we intend to offer further outdoor entertainment options such post match fixtures on Derwent Park as well as pre match options or possibly outdoor live music options, utilising the open spaces we have as we adapt to meet the challenges presented by the ongoing pandemic.
Season Ticket holders, Sponsors and the 1945 club.
We continue to adapt to the evolving pandemic situation, without question it makes planning and decision making difficult and in relation to those who have supported us throughout the last 12 months we would like to thank you for your constant and unwavering support.
Sponsorship and commercial options.
We can report that every first team player is sponsored for season 2021 with a waiting list for any further playing additions made as the season develops, all playing kit sponsors from 2020 also have agreements in place with the club ahead of the new season. We have also secured new external advertising agreements and as the behind close door picture becomes clearer we will be liaising again with our existing sponsors as to how we can provide the value for money you deserve.
In relation to the traditional matchday hospitality sponsorship options the intention is to receive some further clarity on the behind closed doors situation and then we can make firm arrangements as to which games can be sponsored. Once again the interest in this area has been strong by individuals and businesses coming forward and wanting to commit to supporting their club.
To discuss please email graemepeerstownrlfc@gmail.com about the options available.
In relation to season ticket sales, we are humbled by the strong sale numbers and you may be wondering how games being played behind closed doors affects your purchase.

We are delighted to report that you will receive an inclusive pass / link via the streaming service to watch any behind closed games games that have to take place at no additional cost to you.
Extended Season ticket offer.
If you would like to purchase your discounted season ticket now the fixtures are here then please head to www.townshop.co.uk/product-pag...
1945 club members.
Now we have made that first step back inside Derwent Park our dedicated media team have much more access to the coaches and players and this gives us the opportunity to provide the intended service for our 1945 club members. Once again from everyone at the club we would like to express our sincere thanks for your unwavering support throughout the pandemic and the support to our club has been invaluable enabling us to budget accordingly to ensure we signed and secured the players Chris wanted for his squad in 2021.
For those who are interested in joining the 1945 Club please follow the link:
Thank you and Up the Town!
Workington Town Board of Directors
#ourtown